Rescheduled from March: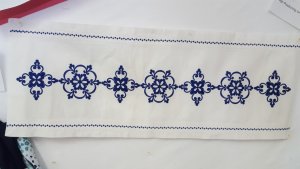 Holiday Table Runner
Create this beautiful table runner for the holiday table setting. The embroidery designs are built into the HUSQVARNA VIKING® Designer Diamond Royale™. Diamond deLuxe owners can also participate in this class.

Supplies:

- HUSQVARNA VIKING® Designer Diamond Royale™ or Epic sewing and embroidery machine
- Embroidery unit, 240 x 150 hoop either regular or magnetic, Q foot
- Inspira Tear-A-Way stabilizer
- Candle wicking foot
- Left edge stitching foot
- INSPIRA® Wing Needle, size 100
- Robison Anton Rayon 40 thread in color of your choice.
- Bobbin thread
- Sewing thread to match the fabric color
- 1/2 yard white linen/ cotton blend. (Or as long as required for your own table if you want runner longer than WOF).
- Marking pen

Cut:
- One piece 18" x WOF. Starch if desired. I like a light starch on linen before I sew.