Shop Hop starts Friday!

October 3, 2014
Here's what's happening at Prairie Points this week:

---
The Shop Hop quilt is hanging in the shop for you to see now!

Shop Hop starts next Friday!
Dates :Oct. 10, 11, 17 and 18th.
Click on this LINK to see a copy of the Shop Hop 2014 flyer.
The theme this year is "Quilting and Quisine" so it will be food-based. Great prizes, gifts and free patterns. Tickets are still $5 and flyers are available in the shop. See you at the hop!
---
0% Interest Financing Event
Get 0% Interest for 36 months when you purchase a DESIGNER TOPAZ™ sewing and embroidery machine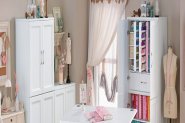 INSPIRA STUDIO™ Financing Special
Valid through December 31, 2014
Get up to 48 months and 0% Consumer Financing when purchasing pieces from our NEW INSPIRA STUDIO™ collection.

24 months 0% interest financing when you purchase over $2,000 from our collection.
36 months 0% interest financing when you purchase over $3,000 from our collection.
48 months 0% interest financing when you purchase over $4,000 from our collection.
---
We have received the new Designer Ruby Royale! Come in and demo this beautiful new machine and all it can do! Free gift with machine purchase - $300 value (while supplies last!)
See more on the New Designer Ruby Royale here:



Another exciting introduction is the Inspira Organizing System by Closetmaid. This collection has a product for everything in your sewing room; every cabinet you need to get truly organized! Click on the picture to see the entire line of cabinets on the Husqvarna Viking website.



We expect delivery of the Thread Cabinet, Mat & Hoop Cabinet and Three-drawer Supply cabinet floor models in a couple of weeks. Can't wait for you to see them! Beautiful functionality you will love!

---
New this week-
Lots of new patterns & notions, like LED lighted keychains, embroidery scissors, magnetic screwdrivers, pocket calendars, all great stocking stuffers!
---
Becky likes polka dots, so this week's special is
15% off all polka-dotted fabric!

Applies to in-stock products only. Valid October 4- 11, 2014
---
CLASSES for October 4-12, 2014

Saturday, October 4 - No Classes
Sunday, October 5 -Rotogravure Sampler - 2pm
Monday, October 6- Learn to Quilt 101 - 1-m
Learn to Quilt 101 - 6pm
Tuesday, October 7 - Tilted T-shirt Quilt - 5pm
Wednesday, October 8 - No Classes
Thursday, October 9- Casserole Cover - 10 am
Friday, October 10 - Shop Hop
Saturday, October 11 - Shop Hop (No Quilt Club today)
Sunday, October 12 - Sunday Sew-In with Jan - 10am


Click on the class name above to take you to the description and details of each class. You can also call the shop or contact your instructor. As always, our complete calendar is on our website here. Thanks!

---
Have you visited our website lately? View our classes and events calendar, see our customer gallery, new fabrics, free pattern of the month, our adoption corner and much more! Don't forget to visit our FaceBook page too. We'd love for you to post any comments or photos of your latest projects for us to enjoy!
---
Prairie Points
8851 N. Knoxville Ave.
Peoria, Illinois 61615
(309)692-4340
website = www.prairiepoints.net
email address = info@prairiepts.com