Skip Navigation
Website Accessibility
New year of Quilt Club starts tomorrow

January 9, 2015



Here's what's happening at Prairie Points this week:
---

Prairie Points Quilt Club is beginning a new year - and there is still a spot left for you! Please call or come in to the shop to reserve and pay for your spot. Membership is limited and it's first come-first served. Join us for a great year of fun, fellowship and quilts!

---
New Make-It-Take-It program starting.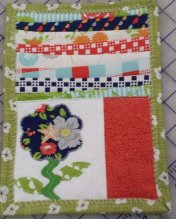 Make-It-Take-It - Saturday, January 17th
10:30am or 2pm
'Year of Love, Year of Fun' program.
We will be doing the first couple of months as a trial. For the monthly fee of $3
you will receive the pattern for the project and a recipe, which you will be able
to sample during class, (yum!!). Kits and machines will also be available to do
project during class time and the cost varies with the project. You must call
the shop to reserve spot so space & kits will be available. Claudie will lead our first project - the cute mug rug pictured above. Kit fee for the mug rug is $7
(for a total of $10 with the monthly fee).
---
This week's special is guaranteed to keep you warm in this nasty cold weather!

Take 15% off all of our in-stock FLANNELS.
We have a great selection, including solids, holiday and
children's prints.
Good Jan. 12 - 17th.

---
New this week:

Doe by Clothworks Le Elephant by Kaufman
---
CLASSES for Jan. 10 - Jan 17, 2015
Saturday, January 10 - Prairie Points Quilt Club - 10 AM
Sunday, January 11 - Sunday Sew-In with Jan - 10am
Monday, January 12 - No Classes
Tuesday, January 13- No Classes
Wednesday, January 14- No Classes
Thursday, January 15 - No Classes
Friday, January 16- Curved Log Cabin - 1pm
Saturday, January 17- Make-It-Take-It - 10:30am
Make-It-Take-It - 2pm


Click on the class name above to take you to the description and details of each class. You can also call the shop or contact your instructor. As always, our complete calendar is on our website here. Thanks!

---


With winter and inclement weather upon us sooner than we want to think about - we'd like to remind you of our bad weather policy. We will follow the weather closing schedule for ICC. If they are closed due to the weather, we will be too. Of course, if you have any questions, please call us! Your safety is important to us!
Thanks!


---
Check out our website and

LIKE

us on Facebook!
---
Prairie Points
8851 N. Knoxville Ave.
Peoria, Illinois 61615
(309)692-4340
info@prairiepts.com