Skip Navigation
Website Accessibility
Great rebates on Topaz machines

February 4, 2015

---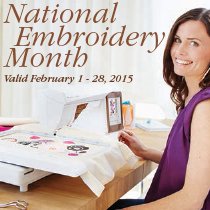 Celebrate National Embroidery Month with a new DESIGNER TOPAZ™ sewing and embroidery machine.

This month when you purchase a DESIGNER TOPAZ™ machine you can get up to a $300 mail-in rebate.

$100 Mail-In Rebate when you purchase a DESIGNER TOPAZ™ 25

$200 Mail-In Rebate when you purchase a DESIGNER TOPAZ™ 40

$300 Mail-In Rebate when you purchase a DESIGNER TOPAZ™ 50

---
Keep in mind all the great machine embroidery classes that PP offers. Classes with Marty Tarter and Robyn Welch will help get you on your way to making that beautiful machine embroidered project or quilt! Treat yourself to a class today!!



We are excited to have 2 new classes to add to the calendar.

Patty Gallmeyer is offering a Smitten Sit n Stitch. "Smitten" is a beautiful, pieced hexagon pattern
that uses From Marti Michell templates to cut the fabric pieces. Patty will guide you thru partial
seams and using the templates. This class will be held the second Saturday of each month from
1pm to 4pm starting in March. The cost is only $2 each month for the room fee; bring your
lunch if you'd like!

Georgia Gingrich is back! She is, once-again, offering her Quilting 101 class.

Quilting 101 will guide you through cutting, piecing and making borders. You will make a simple quilt top of a 9 patch and rail fence blocks. All the basics will be explained and demonstrated. A sample will be made for practice, then you will work on your quilt top.


---
Still a few more days left for the 24month/0% financing on Sapphires and Opals!
Come in for a test drive to see why they the won the Consumer Award, then get
a great deal on the price and the financing. Good until Feb. 10th.
---


With winter and inclement weather upon us sooner than we want to think about - we'd like to remind you of our bad weather policy. We will follow the weather closing schedule for ICC. If they are closed due to the weather, we will be too. Of course, if you have any questions, please call us! Your safety is important to us!
Thanks!


---
Check out our website and

LIKE

us on Facebook!
---
Prairie Points
8851 N. Knoxville Ave.
Peoria, Illinois 61615
(309)692-4340
info@prairiepts.com