20% off all Embroidery Designs

February 6, 2015


Here's what's happening at Prairie Points this week:
---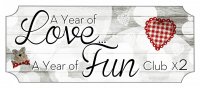 Make - It - Take -It


Sat., Feb., 21 - 10:30am or 2pm.


Come join Claudette as she show you how to put together a cute Bunny Doodle pad cover and then enjoy a treat. Pattern cost is $3 , kit fee is $10 . You do not have to purchase a kit or do the project in class but please call the shop to reserve a spot or kit. Seats are limited.

---
February is National Embroidery Month so our shop special will be month long -
20% off all machine embroidery designs .
Also, don't forget to check out our huge inventory reduction sale on
Sulky Rayon and Mettler Poly threads for those embroidery projects.
Dust off those embroidery machines and get stitching!

In-stock products only, please. February 2 - 28 .
---


We began a new program for our customers in January.


During your birthday month we'll send a birthday email with a special offer. If we don't have your birthday and email in our shop computer make sure you get the staff to add them. If you have no email address or prefer not to get emails, just stop in and tell us it's your birthday, we will take care of you!




New this week -




Click pics for more info

---
Northpoint Shopping Center is having a Sweetheart Sale. Stay tuned for more
info in Wednesday's blast!


---
CLASSES for Feb. 7- Feb. 14, 2015
Saturday, February 7 - Moda Modern Building Blocks - 10am
Sunday, February 8 - Sunday Sew In with Jan - 10am
Monday, February 9 - No Classes
Tuesday, February 10- Wonky Starry Night - 5pm
Wednesday, February 11- No Classes
Thursday, February 12- Lone Star - Your Way - 6pm
Friday, February 13- Footin' Along - 9am
Saturday, February 14- Prairie Points Quilt Club - 10am
Sunday, February 15- No Classes

Click on the class name above to take you to the description and details of each class. You can also call the shop or contact your instructor. As always, our complete calendar is on our website here. Thanks!

---


With winter and inclement weather upon us sooner than we want to think about - we'd like to remind you of our bad weather policy. We will follow the weather closing schedule for ICC. If they are closed due to the weather, we will be too. Of course, if you have any questions, please call us! Your safety is important to us!
Thanks!


---
Check out our website and

LIKE

us on Facebook!
---
Prairie Points
8851 N. Knoxville Ave.
Peoria, Illinois 61615
(309)692-4340
info@prairiepts.com