February Make-It-Take-It Tomorrow

February 20, 2015
Here's what's happening this week at Prairie Points:
---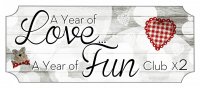 Make - It - Take -It


Sat., Feb., 21 - 10:30am or 2pm.


Come join Claudette as she shows you how to put together a cute Bunny Doodle pad cover and then enjoy a treat. Pattern cost is $3 , kit fee is $10 . You do not have to purchase a kit or do the project in class but if you want to please call the shop to reserve a spot or kit. Seats are limited.

---
Spring Retreat News!!!
We have been looking for a new venue to hold our retreats and we think we found it!

For the event we are putting together a quick and easy mystery quilt, planning to bring
in a teacher or two to do some demos and working to come up with other fun surprises.
Here are the facts:

Where:

AmericInn Lodge and Suites, 96106 N. Lindbergh Dr., Peoria, IL

When:

Thursday, April 23rd noon until Sunday, April 26th noon

What:

Prairie Points will arrange for the large group sewing room only.
If you want to stay overnight at the hotel a block of rooms is being held until April 3rd for our attendees to reserve on their own.

Cost:

$70 for the event (group sewing room only)


$112 per night

to stay at the hotel in a room with

2 queen size beds or a room with 1 king size bed.

(That includes the tax - but call by April 3rd!)

Meals:

Breakfast is free with your room if you stay overnight.
Lunch and dinner will be on your own. There are many restaurants (and a great quilt shop) nearby; some are just a short walking distance from the hotel.
We are thinking it would be fun to have a potluck Thursday.

Sign up:

Group Sewing - Call or come by the shop to reserve your spot - 309-692-4340


Overnight room - Call AmericInn to reserve your room - 800-634-3444.
Remember to mention you are with Prairie Points Quilt Retreaters!
Hope to see you at the retreat!
---
February is National Embroidery Month, so our shop special will last all month long -
20% OFF ALL MACHINE EMBROIDERY DESIGNS!!!
Also, don't forget to check out our huge inventory reduction sale on
Sulky Rayon and Mettler Poly threads for those embroidery projects.
Dust off those embroidery machines and get stitching!

In-stock products only, please. February 2 - 28 .
---
What's New:



3 beautiful new lines for those spring projects!
Click Pictures for details.
---
CLASSES for Feb. 21- Feb. 28, 2015
Saturday, February 21 - Make-It-Take-It - 10:30am
Make-It-Take-It - 2pm
Sunday, February 22 - Sunday Sew-In With Jan - 10am
Monday, February 23 - New Owner's Class #2 - 2:30pm
New Owner's Class #1 - 6pm
Tuesday, February 24 - New Owner's Class #1 - 2:30pm
New Owner's Class #2 - 6pm
Wednesday, February 25- Dresden Plates in Batiks - 5pm
Thursday, February 26 - New Owner's #4 - 2:30pm
New Owner's #3 - 6pm
Friday, February 27- LeMoyne Star Wallhanging - 1pm
Saturday, February 28- No Classes

Click on the class name above to take you to the description and details of each class. You can also call the shop or contact your instructor. As always, our complete calendar is on our website here. Thanks!

---


With winter and inclement weather upon us sooner than we want to think about - we'd like to remind you of our bad weather policy. We will follow the weather closing schedule for ICC. If they are closed due to the weather, we will be too. Of course, if you have any questions, please call us! Your safety is important to us!
Thanks!

---
Check out our website and

LIKE

us on Facebook!
---
Prairie Points
8851 N. Knoxville Ave.
Peoria, Illinois 61615
(309)692-4340
info@prairiepts.com