Skip Navigation
Website Accessibility
Memorial Day Special Financing

May 20, 2015

We will be open Memorial Day,
Monday, May 25th
from 10am til 4 pm.
---
Special Memorial Day Financing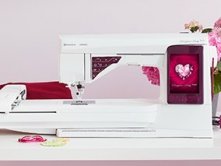 Memorial Day Financing - 60 Month - 5.99% Financing
on DESIGNER DIAMOND Royale™, DESIGNER RUBY Royale™ and
DESIGNER TOPAZ™ 50.
Financing good May 22 - 30
---
Machine of the Month
The Designer Diamond Royale is Husqvarna's featured Machine of the Month!
Let us show you the features that make this the top of the line in Embroidery and Sewing,
including the patented deLuxe Stitch System, the Exclusive Sensor System, 1250 different
stitches and the capabilities to use the biggest hoop on a home embroidery machine (360 x 350mm).
So many features - you just have to see them for yourself!

---
Our Teacher Feature this week is
Isabelle Donnelly


Isabelle (or Isy, as her friends call her) has sewn since high school, but started quilting in 1998 when
she got her first Viking machine. She enjoys all aspects of quilting - from start to finish - and does
it all from start to finish using her Viking 100Q, SE or Diamond deLuxe. You'll find Isy teaching
classes that employ those specialty rulers she loves such as the Night Sky (using the Hex and
More Ruler by Jaybird Quilts) or Rapid Fire LeMoyne Star (using Deb Tucker's ruler) or Dresden
Blooms Revisited (using a wedge ruler) or the upcoming Rock Candy Table topper class using the
sidekick Ruler from Jaybird Quilts. She also teaches quick, fun classes like the Little Log Cabin
and embroidery quilt classes like the Mariner's Compass.

If you haven't taken a class from Isy, you are missing out on great fun and great learning!
Isy loves her rulers so much she is affectionately known as our Ruler Queen, always ready and able
to try or teach a new ruler class. What favorite notion would our Ruler Queen rather have than.....rulers, especially the Rapid Fire LeMoyne Star Ruler. Isy's favorite color combination is blues and purples.
A little advice from an expert, Isy says "Make your block a little bit larger and then cut it to size"!


---
Check out our website and

LIKE

us on Facebook!
---
Prairie Points
8851 N. Knoxville Ave.
Peoria, Illinois 61615
(309)692-4340
info@prairiepts.com