Skip Navigation
Website Accessibility
Join the Row by Row Experience

June 5, 2015
Here's what's happening this week at Prairie Points

:
---
Make-It-Take-It
June 20th at 10:30am OR 2pm



Claudie will be there to show you how to make a cute case you can wear cross-body or as a lanyard.

Use it for your cell phone, keys, debit card and id - you name it! They're like chips, betcha can't make just one!

Make one to match every outfit and be stylin' this summer!

Call the shop to reserve your spot and join the fun.
Kit fee is $7


---
June Special
15% off all Batiks



In stock products only, please. June 1 - 30, 2015
---
It's not too soon to start planning your summer vacation . . why not join the Row by Row experience as you travel. It's like a Shop Hop with much more time to collect the patterns and no tickets to buy. Collect patterns while you travel and take the whole summer to put together your quilt - row by row!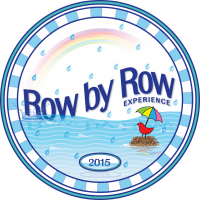 Starts June 21st.
Click on the picture for a link to the "Row by Row Experience" website for more details.
---
Husqvarna Viking is having a little fun with fans on its FaceBook page this summer!

For details and to submit your entry - click HERE

---
What's New:




If you loved last winter fabric line "Through the Woods", you will love the new "Winter's Song"
by Moda. Beautiful panel, coordinating fabrics and precuts - ready for those winter projects!



"Textured Leaves" - 6 wonderful prints from Moda make great backgrounds. Get a head start on your
fall quilting with these beautiful fabrics.



For those special people who give so much - "Calling All Nurses" from Moda.

---
CLASSES for June 6 - June 14, 2015
Saturday, June 6- Moda Modern Building Block - 10am
Sunday, June 7 - No Classes
Monday, June 8- No Classes
Tuesday, June 9 - No Classes
Wednesday, June 10 - No Classes
Thursday, June 11- Little Log Cabin - 1pm
Friday, June 12 - Footin' Along - 9am (supply lists on website)
Saturday, June 13- Prairie Points Quilt Club - 10am
Smitten Sit N Stitch - 1pm
Sunday, June 14 - Sunday Sew-In - 10am

Click on the class name above to take you to the description and details of each class. You can also call the shop or contact your instructor. As always, our complete calendar is on our website here. Thanks!


---
Check out our website and

LIKE

us on Facebook!
---
Prairie Points
8851 N. Knoxville Ave.
Peoria, Illinois 61615
(309)692-4340
info@prairiepts.com