Skip Navigation
Website Accessibility
Make-It-Take-It on Saturday

June 17, 2015
---
Make-It-Take-It
June 20th at 10:30am OR 2pm



Claudie will be there to show you how to make a cute case you can wear cross-body or as a lanyard.

Use it for your cell phone, keys, debit card and id - you name it! They're like chips, betcha can't make just one!

Make one to match every outfit and be stylin' this summer!

Call the shop to reserve your spot and join the fun. Kit fee is $7
---
Celebrate Summer with Fantastic Financing!
0% Interest 60 Month Consumer Financing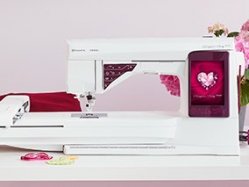 DESIGNER DIAMOND Royale™
DESIGNER RUBY Royale™
DESIGNER TOPAZ™ 50
and ALL Embroidery Software
Financing available June 15-30.
---
Husqvarna Viking's featured machines for the month of June are the




Huskylock Sergers

!


We have a link on our home page (or click on the picture below) to this cute little ruffled skirt to make for your special little princess - so quick and easy
on the Huskylock s25 Serger!
---
FREE UPGRADE!


Purchase and register your 6D™ Premier Embroidery Software between June 1 and December 31, 2015
and receive a free upgrade to PREMIER+™ ULTRA (Coming Fall of 2015)
See more at: FREE UPGRADE
---
Redecorate your sewing room this month and save $$$$!
From June 1 - 30 - Inspira is offering a 15% discount on all of their Studio Cabinets


Click on the picture for details on these beautiful cabinets.
---
Our "Teacher Feature" this week is Robyn Welch.




Robyn is one of our wonderful teaching staff; a veteran quilter with over 40 years of
experience. You'll find her teaching machine embroidery/machine applique classes that yield beautiful
results. She likes the process of cutting and loves applique - whether it is raw edge fusible machine
applique or machine embroidery applique.

Some of Robyn's favorite motifs are florals, houses and snowmen (you can see some of her handiwork
at the shop as store samples). One of her favorite notions is the Havels Multi-Angled Scissors, great for
trimming those applique pieces. When it comes to anything quilty, Robyn says, "Yes, you can!" and there
is such a thing as "creative liberties" when it comes to all aspects of quilting!

Check out Robyn's machine embroidery class: Naught & Crosses. If you have an embroidery machine,
you can put it to good use making one of these gorgeous machine embroidery designs. Robyn will
help you with all the tricks and know-how to put together a beautiful work of art,
---
Check out our website and

LIKE

us on Facebook!
---
Prairie Points
8851 N. Knoxville Ave.
Peoria, Illinois 61615
(309)692-4340
info@prairiepts.com