Row by Row Experience Starts Monday

June 19, 2015
Here's what's happening this week at Prairie Points

:
---
Row by Row Experience begins Monday, June 21st

We are looking forward to being part of the Row by Row experience this year and welcoming visitors from near and far. If you haven't heard about it yet, click on the picture below to learn more. Basically though, it's a nationwide Shop Hop during which you can spend all summer collecting patterns from shops you find while traveling on vacation. What better reason do you need to stop at all the quilt shops along the way!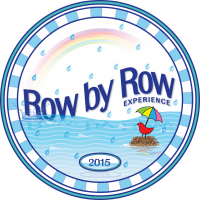 The row for our shop, Jumping Fish, is now on display.
When we heard it was a water theme we knew we had to have Asian Carp jumping on the Illinois River.
And the license plate had to be, will it
"Play in Peoria"?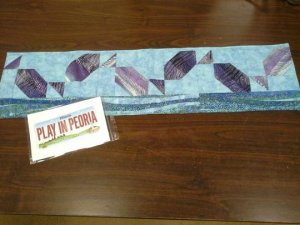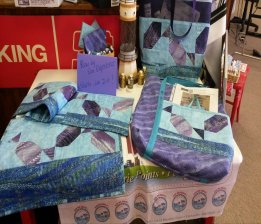 ---
Make-It-Take-It
Saturday,June 20th
10:30am OR 2pm



Claudie will be there to show you how to make a cute case you can wear cross-body or as a lanyard.

Use it for your cell phone, keys, debit card and id - you name it! They're like chips, betcha can't make just one!

Make one to match every outfit and be stylin' this summer!

Call the shop to reserve your spot and join the fun. Kit fee is $7
---
June Special
15% off all Batiks



In stock products only, please. June 1 - 30, 2015
---
What's New:

Have you seen the new "Candies"? Little 2 1/2" squares just perfect for projects with lots
of small pieces, like the ones pictured below. We have books, patterns and templates
available - and some adorable samples on display in the shop now.




"Little Butterflies" by Laundry Basket Quilts




Moda's "Candy" Book with 13 patterns for Candies (Candies in "Fresh Cut" and "Reel" pictured)
"Mini Charmer" wall hanging by Heather Mulder Peterson for Anka's Treasures


---
CLASSES for June 20 - June 28, 2015
Saturday, June 20- Make-It-Take-It - 10:30 am
Make-It-Take-It - 2 pm
Sunday, June 21- Happy Father's Day! Celebrate Dad!
Monday, June 22- No Classes
Tuesday, June 23 - New Owner's Class #1 - 2:30pm
New Owner's Class #2 - 6pm
Wednesday, June 24 -Little Log Cabin - 1pm
Thursday, June 25- New Owner's Class #3 - 11am
New Owner's Class #4 - 6pm
Friday, June 26 - No Classes
Saturday, June 27- No Classes
Sunday, June 28 - Sunday Sew-In with Jan - 10am

Click on the class name above to take you to the description and details of each class. You can also call the shop or contact your instructor. As always, our complete calendar is on our website here. Thanks!


---
Check out our website and

LIKE

us on Facebook!
---
Prairie Points
8851 N. Knoxville Ave.
Peoria, Illinois 61615
(309)692-4340
info@prairiepts.com