Skip Navigation
Website Accessibility
Red, White and Blue Rebates

July 1, 2015
If you plan to spend your 4th of July sewing - we will be open from 10 am til 4pm

!
---
Summer is heating up! Independence Day is almost here! Time for
Red

, White and

Blue

Rebates!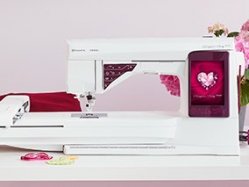 DESIGNER DIAMOND Royale™ DESIGNER RUBY Royale™
$350 $250

Sapphire 960Q Opal 690Q
$200 $150



Available from July 1-31, 2015.
---
"Sparkling" Financing July 1-8



60 Months 0% APR Consumer Financing on
DESIGNER DIAMOND Royale™, DESIGNER RUBY Royale™,
DESIGNER TOPAZ™ 50, 6D™ PREMIER & TruE™ software
.
---
Husqvarna Viking's featured machines for the month of July are the
Sapphire Sewing/Quilting Machines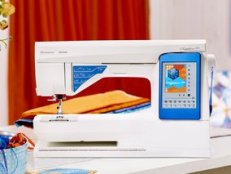 Sapphire 960Q

Sapphire 930

Here's a link to July's free project on the Husqvarna Viking website - this
pretty and functional travel placemat - perfect for the Sapphire line (or
any other machine).


---
FREE UPGRADE!


Purchase and register your 6D™ Premier Embroidery Software between June 1 and December 31, 2015
and receive a free upgrade to PREMIER+™ ULTRA (Coming Fall of 2015)
See more at: FREE UPGRADE
---
Our "Teacher Feature" this week is on Becky Ziegel.




Becky has been quilting since 2000, which is about when she started working at Cozy Corner. She also
teaches classes. In the past, she has taught technique classes such as Geese in the Field- using the Lazy
Girl Flying Geese No Math Ruler and magnetic hoop to machine embroider quilt designs - two great
techniques that can be used over and over again! Or the x-block quilt using the x-block ruler (we have lots
of cute x-block patterns). Becky will soon be offering a Rag Quilt class (see sample at shop), so watch
for it on our calendar.

Becky loves choosing fabrics for a quilt and she especially loves making flying geese and pinwheel blocks.
Her favorite color combination is blues and yellows. A favorite notion she can't live without is the Havels
Pointed Curved Scissors - great for making neat and close cuts. Becky's motto is "work smarter, not harder"
and she wants all her quilts to look like she worked hard!
---
Check out our website and

LIKE

us on Facebook!
---
Prairie Points
8851 N. Knoxville Ave.
Peoria, Illinois 61615
(309)692-4340
info@prairiepts.com