March 9, 2016
---
Stripology demo & trunk show with
Gudrun Erla of G. E. Designs
Thursday, March 17th at 5:30pm
Come for an evening of fun with Gudrun Erla, internationally known quilter, author and designer of the
Stripology ruler. She will show how to use the Stripology ruler to decrease cutting
time to be able to spend more time sewing. PLUS she will share quilts and projects created using her
patterns.
$10 reserves your spot. Please call Prairie Points to sign up.
See more about Gudrun on her website

---
To celebrate National Quilt Month
come in and test drive one of the Platinum series machines!

Experience a new dimension in free-motion long arm quilting at 3,000 stitches per minute. - See more at: http://www.husqvarnaviking.com/en-US/Machines#.927
We have great prices on both the Platinum 16 and Platinum 3000,
as well as special financing (48 months 0% interest)
and FREE TruStitch with the Platinum 16.
---
Introducing, Sandy Sanders!
National Quilt Month seems like a good time to introduce Sandy,
a new teacher at Prairie Points, and her new class,
LEGACY QUILT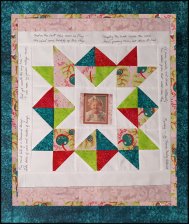 Sandy will provide instruction and guidance as you create a mini legacy quilt.
This will be a 2 session workshop
March 22 & April 5, 1-4pm

What is a legacy quilt?
It is one that preserves the memories of loved ones, milestones and events
such as anniversaries and graduations. And is created from many sources such as
garments, photos, linens, vintage fabric, mementos, t-shirt, baby clothes, memorabilia.
Fee for the workshop is $42.
Sign up today to use treasures form the past to create a quilt for the future.
Visit Sandy's website at www.c
reativequiltservices.com,
or visit her on FaceBook at Kadodl Creative Services
---