Skip Navigation
Website Accessibility
New Classes Scheduled

April 6, 2016

---
Special Shower of Savings could make you a winner!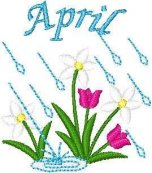 Make a purchase each week and watch your savings grow.
Week 1
April 4 - 9 - Make a purchase, get a 5% discount and a punch card with 1 punch.
Week 2
April 11 - 16 -
If you made a purchase in week 1, you will receive a 10% discount
and a 2nd punch.
Week 3
April 18 - 23 - If you made a purchase in weeks 1 & 2, you will receive a 15% discount
and a 3rd punch.
Week 4
April 25 - 30 - get a 20% discount (if you made purchases in the previous 3 weeks) and
get your 4th punch.

BONUS:
Turn in your card with your 4 punches during week 4 to qualify for a drawing to be held on May 2nd for a Quilting Basket with a retail value of $75!
Includes a copy of the latest MSQC Block book, templates,
pre-cuts and more!

!!Must present punch card at time of purchase!!
---
April Showers bring sweet savings for you!
April 1st - 9th
15% off MSRP on ALL machines and Embroidery Software Packages
and
April 1st - 30th
All Inspira Cabinets are at special prices too!
Come in to see the two recent arrivals on display in the shop in
beautiful teak and white finishes.
April 1 - 30
Special Consumer Financing
48 Months 5.99% Fixed Monthly Pricing
on the entire DESIGNER™ LINE
---
The Husqvarna Viking Machine of the Month for April is
the Designer Jade 20
We are continuing to "shower you with savings" by offering
you a special launch price on the Jade 20 machine.
Great for the new sewist!

---
Upcoming classes
Saturday, April 9th
Prairie Points Quilt Club - 10am
PPQC meets on the 2nd Saturday of each month
and offers project ideas,
a show and tell time, snacks and lots of fun!
GlowDanna - 1 pm
Sandy Sanders has created a class to make our fur babies glow!
The fee for the class includes the kit with
the glow wire and electronics. Sandy will show you how to make these
bandannas for your doggie!
Just in time for National Pet Day on April 11th!
Sunday, April 10th
Sunday Sew-In with Jan - 10am
Bring your projects and Jan will help and encourage you with them!
Monday, April 11th
Machine Mat - 9am
Marty has fashioned a machine mat to give style and functionality to your sewing studio.
See the website for the supply list and for classes on a Foot Box, Machine Cover and
Handwork Case to coordinate with it.
Wednesday, April 13
Diva Frame Wallet - 5:30pm
The student becomes the teacher! Join Deb Dvorak for her
first
class and make this cute Diva Frame Wallet.
---
Check out our website and

LIKE

us on Facebook!
---
Prairie Points
8851 N. Knoxville Ave.
Peoria, Illinois 61615
(309)692-4340
info@prairiepts.com