Skip Navigation
Website Accessibility
Classes and More!

April 22, 2016
Here's what's happening at Prairie Points :
---
UPCOMING CLASSES





Look for these classes coming up soon and get more details on our website:


Many to choose from!

Tuffet Construction Class with Martha and Gene
Tuesday, May 3 - Call for an appointment


If you have taken Martha's Tuffet Class and are ready to put your




tuffet together - contact Martha to set a time on May 3rd to get together

.

Create a Legacy Quilt with Sandy Sanders
May 3rd (2nd session )

1 pm OR 5:30pm




Bring your treasured items and memories and incorporate them into




a treasured Legacy Quilt. See details by clicking on the picture.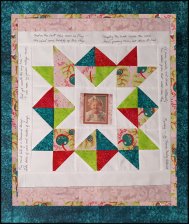 Thursday, May 5 & 19-

Sew Social - 5pm


Bring your dinner and one of those UFOs and
come sew with Patty and some friends!

Monday, May 9 - Machine Cover and Organizer with Marty

Tuesday, May 10 -

Intro to Block of the Month Ruler Work Class


with Denise and Marty
Wednesday, May 11 - 2nd class for TownHouse Quilt with Robyn
Saturday, May 14 - Prairie Points Quilt Club
Monday, May 23 - Patriotic Flag Pillow with Marty
---
What's new this week at Prairie Points?
"Help is on the Way" - from Wilmington. 3 bolts of cute little
public service vehicles sure to please those little ones!
---
CLASSES for April 23- May 1, 2016
Saturday, April 23- Make It Take It -10:30am
Make It Take It - 2:00pm



Sunday, April 24 - Sunday Sew-In with Jan -10am

Monday, April 25 - Foot Box Cover -9am




Tuesday, April 26 - Homestead Embroidery Quilt- 1pm




New Owner's Class #1 - 2:30pm
New Owner's Class #2 - 6pm

Wednesday, April 27 - Townhouse Quilt - 1pm



Thursday, April 28 - New Owner's Class #3- 2:30pm
New Owner's Class #4 - 6pm
Annual Spring Retreat begins - 12 noon

Friday, April 29- No Classes
Saturday, April 30- No Classes

Sunday, May 1 - Miss Muffet's Tuffet - 10am



Click on the class name above to take you to the description and details of the class. You can also call the shop or contact your instructor. As always, our complete calendar is on our website. Thanks!

---
Check out our website and

LIKE

us on Facebook!
---
Prairie Points
8851 N. Knoxville Ave.
Peoria, Illinois 61615
(309)692-4340
info@prairiepts.com