Skip Navigation
Website Accessibility
TailorMade by Design here this weekend


June 15, 2016

---
Friday, June 17,
5:30 - 7pm
Melanie Gresath & Joanie Holton of TailorMade by Design
will be giving a lecture/trunk show.
Call or come to the shop to sign-up, $10 to reserve a spot.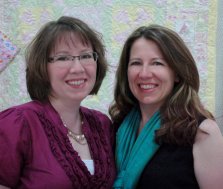 Saturday, June 18,
10 am - 1pm,
Join Melanie & Joanie as they give a workshop on the
Community Garden Quilt from their book,
Sew Easy Quilts for Urban Living.


Come join the fun and be inspired and challenged by these two creative designers.
Class fee is $25. Call the shop to sign up.
---
The new Sapphire 965Q will be launched on June 20th!

BLENDING COLORS. WEAVING MEMORIES
EXCLUSIVE SENSOR SYSTEM® TECHNOLOGY
Automatically and continuously senses and adjusts presser foot pressure as you sew on any thickness of fabric for perfect even feeding.
STRAIGHT STITCH PLATE WITH SENSOR TECHNOLOGY
Better than ever straight stitches.
INTERACTIVE COLOR TOUCH SCREEN
Colorful, easy-to-use touch screen helps you navigate the machine.
EXCLUSIVE SEWING ADVISOR® FEATURE
Select your type of fabric and sewing technique and the Exclusive SEWING ADVISOR® feature instantly sets everything for you
DIMENSIONAL STITCHES TECHNIQUE
Creates stitches where you add fabric for unique dimensional effects.
More details about the Sapphire 965Q coming soon!


---
Mail - In Rebates from Husqvarna Viking
June 1st thru 30th
---
Midsummer Financing on Select Machines - June 1st - 30th
We are also offering a special promo price of
$5499 on the Platinum 16 Quilting Machine.
(Can be combined with the mail-in rebates for a really great deal!!!)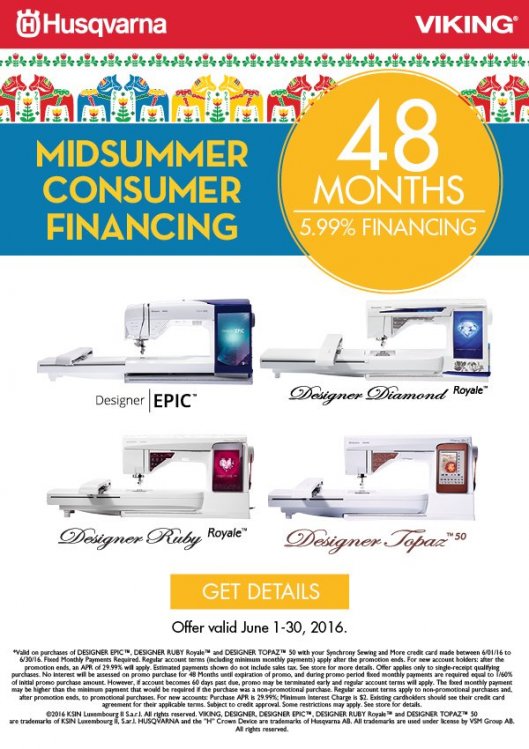 ---
Thursday, June 16th - Sew Social with Patty - 5:30pm

Tuesday, June 21st - Homestead Embroidery Quit with Robyn - 1pm


Friday, June 24 - 9am
- Ruler Work BOM


Meets on your choice of 3 different times - from June to December with Denise and Marty.


The second Tuesday evening of each month from 6:30pm to 8pm.

The second Saturday afternoon of each month from 1pm to 2:30pm.

The last Friday morning of each month from 9am to 10:30am.



Sunday, June 26 - 10am

- Sunday Sew-In with Jan - 10am


---
Check out our website and

LIKE

us on Facebook!
---
Prairie Points
8851 N. Knoxville Ave.
Peoria, Illinois 61615
(309)692-4340
info@prairiepts.com