Skip Navigation
Website Accessibility
Boss Is Away Special

October 26, 2016
---
Market starts this week so.....




Come in between Thursday, October 27th and Monday, October 31st
and get 15% on any in-stock notion! Shhhhhh......don't tell on us!

---

We have a WINNER!!!!
in the
Maggie Winkler brought in her finished Row by Row quilt and picked up
her prize from Prairie Points! Congratulations, Maggie! We love it!!!

If you missed out on kits, they will be available for purchase after November 1.

---
Upcoming Classes
Thursday, October 27 - 2:30pm - New Owner's Class #4 with Martha
6:00pm - New Owner's Class #3 with Martha

Saturday, November 4 - 10:00am - Happy Embroidered Tuffet with Martha


Saturday, November 11 - 10am - Prairie Points Quilt Club
1:00pm - Ruler Work Block of the Month with Denise and Marty

Sunday, November 12 - 10:00am - Sunday Sew-In with Jan

Monday, November 14 - 9:00am - Epic Adventures with Marty


Thursday, November 17 - 5:30pm - Sew Social with Patty

Friday, November 18 - 9:00am - All About Diamonds - Layered Quilting with Applique with Marty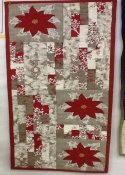 *Don't forget to tell our staff if you are buying supplies for one of our classes. We offer a 15% discount on class-related supplies! *

Click on the class name above to take you to the description and details of the class. You can also call the shop or contact your instructor. As always, our complete calendar is on our website. Thanks!

---
Check out our website and

LIKE

us on Facebook!
---
Prairie Points
8851 N. Knoxville Ave.
Peoria, Illinois 61615
(309)692-4340
info@prairiepts.com
Save
Save
Save
Save
Save
Save
Save
Save
Save
Save
Save
Save
Save
Save