Skip Navigation
Website Accessibility
HV Inventory Reduction Sale extended to 1/16

January 13, 2017

*Just a reminder that we follow ICC's weather- related c
losing schedule in
inclement weather. When in doubt, please call us at (309)692-4340.
Your safety is important to us!!! *
---
Husqvarna Viking Inventory Reduction Sale




30% - 50% off selected FLOOR MODELS Machines thru 1/16/17.
Come in for a demo and pricing.
---
Prairie Points Quilt Club 2017
2nd Saturday of each month - 10:00am til Noon
Come join Prairie Points Quilt Club for great ideas, BOM projects, charity projects,
specials, challenges, "What's New" previews, socializing and great quilty fun!
Fee is $35. Quilt Club members get 10% discount off purchases all year long.
Call or come into the shop to sign up.
---
Make-It-Take-It
January 21, 2017
10:30am or 2:00 pm
M-I-T-I has returned in 2017 with the perfect gift for
Valentines Day! Join Arvella as she guides you thru making this
adorable (and functional) heart mug rug. Kit fee is $10.
Please call or stop by the shop to register so we have a kit for you!
---
January Shop Special
15% off all packaged battings
In-stock products only. January 1 - 31, 2017
---
What's New
Introducing the Robert Kaufman color of the year -
Pink Flamingo !
---
Classes thru February 12, 2017

Saturday, January 14 - 10:00 am - Prairie Points Quilt Club - New year of Club begins!

Friday, January 20 - 9:00 am - All About Diamonds - Stitch-out Order Cosmetic Bag with Marty



Friday, January 20 - 9:30am - Beginning Quilting by Machine with Denise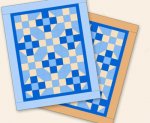 Saturday, January 21 - 10:00 am - Make-It-Take-It with Arvella
2:30 pm - Make-It-Take-It with Arvella

Sunday, January 22- 10:00 am - Sunday Sew-in with Jan

Tuesday, January 24 - 2:30pm - New Owner's Class #2 with Martha
6:00pm - New Owner's Class #1 with Martha

Thursday, January 26 - 2:30pm - New Owner's Class #4 with Martha
6:00pm - New Owner's Class #3 with Martha

Saturday, January 28 - 10:00am - Miss Muffet's Tuffet with Martha




Friday, February 3 - 9:30am - Beginning Quilting by Machine with Denise

Friday, February 10 - 9:30am - Beginning Quilting by Machine with Denise

Saturday, February 14 - 10:00 am - Prairie Points Quilt Club

Sunday, February 12- 10:00 am - Sunday Sew-in with Jan

Click on the class name above to take you to the description and details of the class.
You can also call the shop or contact your instructor. As always, our complete calendar