Skip Navigation
Website Accessibility
Happy St. Patrick's Day!

March 17
, 2017
---
Jackie Padesky of @jackiepadeskyquilts
is coming to Prairie Points Quilt Shop!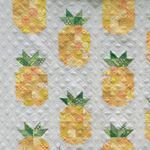 Friday, May 5, 6pm - 7:15pm for a lecture/trunk show
And
Saturday, May 6 for her Pineapple Quilt workshop, 10am - 1pm,
Call or come in to signup! 309-692-4340

Jackie Padesky is a central Illinois native who started quilting in 2007 after
taking a Quilting 101 class at Cotton Stitches in Pekin. In her few short years
of quilting she's completed over 100 quilts, and even designed a few along
the way - most notably, her Pineapple Quilt, which has taken the
online quilting world by storm.

Jackie was fortunate to have recently been a guest on Pat Sloan's American
Patchwork and Quilting Podcast to discuss the Pineapple Quilt and how Instagram
has positively impacted her quilting experience by allowing her to interact with thousands
of

people through friendship and creativity

! You can find Jackie on Instagram at
@jackieapadeskyquilts.
There you'll see lots of pictures of her work, her love of Bonnie & Camille
fabrics, and the next project
she's happily working on!
See more details about Jackie, the trunk show and workshop HERE
To download the flyer about this event, please click HERE
---
Make It Take It
Saturday, March 18
10:30 am or 2:00 pm
Think SPRING with this adorable Hipster Purse with a floral
accent! Arvella will show you how easy it is to make this bag
and you'll receive the pattern so you can make more later!
Kit fee is $10. Please call the shop to reserve your spot.
---
March Shop Special

15% off all Thread
In-stock only, please
March 1 - 31

---
What's New?


"Sheeps & Peeps" from Quilting Treasures
Adorable chicks just in time for Easter!

---
Tag-A-Long Embroidery Tags Class
March 29, 5:00 - 7:00 pm




Come join Martha Dakin for an evening of fun embroidery as we Tag-A-Long!
Sports, baby, teen, sewing - there are lots of great designs in these Hope Yoder patterns.
We will learn how to personalize these cute tags by inserting custom text.
Design packet and supplies are available at the shop. Don't forget to mention they are for
class to receive your class discount!
Click on the picture above for more info.

---

"I have this wonderful new sewing/embroidery machine and I don't know everything that
it can do!" Or...."I haven't used my machine in so long, I'm afraid I won't remember what
to do with it?"

If this sounds like you - Martha has the perfect classes for you!
We have 4 New Owner's Classes that will guide you thru the basics of any machine
you purchased from us (even if it's a refresher course).
New Owner's Class #1 is a basic class for learning all the bells and whistles.
New Owner's Class #2 teaches you about the decorative and speciality stitches.
New Owner's Class #3 takes the fear and mystery out of your embroidery machine.
New Owner's Class #4 is an advanced embroidery and connectivity class.

These classes are free of charge if you bought your machine from us.
Martha teaches these in the afternoon and evenings, usually once a month.
Please call the shop at (309)692-4340 to register.
---
Upcoming Classes
Saturday, March 18 - 9:00 am - Farm Girl Vintage with Patty
Saturday, March 18 - 1:00 pm - Hand Piecing Basics with Patty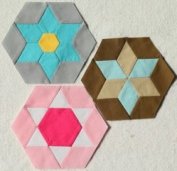 Saturday, March 18 - 10:30 am or 2:00 pm - Make It Take It with Arvella
Tuesday, March 21 -

1:00 pm OR 5:00 pm

- Sabrina Embroidered Quilt with Robyn
Wednesday, March 22 - 10:00 am - Go Bloom with Martha
Saturday,
March 25
-
9:00am - Smitten with Patty