Skip Navigation
Website Accessibility
Mark your calendar for Jackie Padesky


March 24, 2017

---

Jackie Padesky of @jackiepadeskyquilts
is coming to Prairie Points Quilt Shop!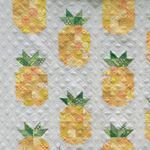 Friday, May 5, 6pm - 7:15pm for a lecture/trunk show
And
Saturday, May 6 for her Pineapple Quilt workshop, 10am - 1pm,
Call or come in to signup! 309-692-4340

Jackie Padesky is a central Illinois native who started quilting in 2007 after taking a Quilting 101 class at Cotton Stitches in Pekin. In her few short years of quilting she's completed over 100 quilts, and even designed a few along the way - most notably, her Pineapple Quilt, which has taken the online quilting world by storm.

Jackie was fortunate to have recently been a guest on Pat Sloan's American Patchwork and Quilting Podcast to discuss the Pineapple Quilt and how Instagram has positively impacted her quilting experience by allowing her to interact with thousands
of

people through friendship and creativity

! You can find Jackie on Instagram at @jackieapadeskyquilts.
There you'll see lots of pictures of her work, her love of Bonnie & Camille fabrics, and the next project
she's happily working on!
See more details about Jackie, the trunk show and workshop HERE
To download the flyer about this event, please click HERE
---
March Shop Special

15% off all Thread
In-stock only, please
March 1 - 31

---
What's New


"Sunday Supper" by Sweetwater for Moda
7 lovely prints in blues, teals, yellows and greens.
Great for Spring!

---
Allie Owl with Patty Gallmayer
April 22 or May 27 at 1:00pm


These owls are so cute and would make a fantastic baby quilt or wall hanging.
Use solid fabrics or fun prints to make Allie Owl!
Compatible with "From Marti Michell Templates"