No Foolin' Flash Sale on Saturday
---
No Foolin' Flash Sale
SELECTED Patterns - $.25 each
SELECTED Sulky Embroidery Threads - $.25 each
DEPT. 36 Fabrics - $5 per yard (1 yd min. cut)
---
April Shop Special
15% off Reproduction Prints
1/2 yard cuts
In-stock only, please
---
Jackie Padesky of @jackiepadeskyquilts
is coming to Prairie Points Quilt Shop!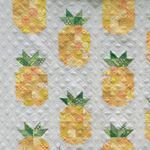 Friday, May 5, 6pm - 7:15pm for a lecture/trunk show
And
Saturday, May 6 for her Pineapple Quilt workshop, 10am - 1pm,
Call or come in to signup! 309-692-4340

Jackie Padesky is a central Illinois native who started quilting in 2007 after taking a Quilting 101
class at Cotton Stitches in Pekin. In her few short years of quilting she's completed over
100 quilts, and even designed a few along the way - most notably, her Pineapple Quilt, which
has taken the online quilting world by storm.

You can find Jackie on Instagram at @jackieapadeskyquilts.


See more details about Jackie, the trunk show and workshop HERE
To download the flyer about this event, please click HERE
---
What's New
"Thistle Farm" by Kansas Troubles for Moda
3 coordinates and charm packs in classic pretty Kansas Trouble prints.
"Maven" by Basic Grey for Moda

15 bolts of beautiful neutral tones in
black, grey and tan.

---
Beginning Quilting by Machine with Isy
Starts Thursday, April 6th
10:00 am to 1:00 pm


Want to learn to quilt like a pro, but don't know where to start?
Isy Donnelly is offering a Beginning Quilting by Machine Class to teach you the
basics from fabric selection to binding. Learn about tools which make cutting and piecing
enjoyable. Use your new knowledge to construct 2 basic blocks which you will use to create a
crib or lap-size quilt. By the end of the class, you will have also learned to quilt the
layers together and apply the binding.
---
Upcoming Classes
Saturday, April 1 - 10:00 am - Quilts of Valor Workshop
Monday, April 3 and Tuesday, April 4 - 8:30 am - Platinum 3000 Longarm Instruction with Joyce
Wednesday, April 5 - 10:00 am - Go Bloom Embroidery Applique with Martha
Thursday, April 6 - 10:00 am - Beginning Quilting by Machine with Isy
Saturday, April 8 - 10:00 am - Prairie Points Quilt Club
Monday, April 10 - 9:00 am - Holiday Table Runner with Marty - rescheduled from March
Wednesday, April 12 - 1:00 pm - Gems of the Prairie Art Bee
Saturday, April 15 - 1:00 pm - Foundation Paper Piecing Basics with Patty
Tuesday, April 18 - 1:00 pm or 5:00 pm - Sabrina Embroidered Quilt with Robyn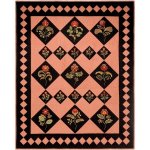 Wednesday, April 19 - 1:00 pm - Serging Round in Circles with Cyndi 5:00 pm - Serging Round in Circles with Cyndi

Thursday, April 20 - 10:00 am - Beginning Quilting by Machine with Isy
Thursday, April 20 - 5:30 pm - Sew Social with Patty
Thursday, April 20 - noon thru Sunday, April 23- noon -
Annual Spring Retreat
Friday, April 21 - 9:30 am - All About Diamonds - Elegant Pop Up Floral Pillow Wrap with Marty
Saturday, April 22 - 9:00 am - Smitten with Patty
Saturday, April 22 - 1:00 pm
- Allie Owl with Patty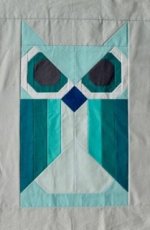 <