Skip Navigation
Website Accessibility
Great Specials for April !



April 6, 2017

---
April is National Serger Month!




Purchase a Huskylock s21 or s25 Serger in the month
of April - receive a FREE Accessory Feet Kit!

---
Serge Round in Circles
April 19 and 26
1:00 pm or 5:00 pm


Join our newest teacher, Cyndy Monier for serging fun!
Learn how to thread your serger for a 3 thread overstitch,
adjust tension for heavy thread in loopers, and serge circles
with a clean start and finish.
All this while becoming more comfortable with your serger
and making this fabulous table runner.


---


One test-drive will convince you that the EPIC is
the best sewing/embroidery machine on the market!!
Purchase your machine at our great price and get a
$500 mail-in rebate from Husqvarna Viking!

---

April means great showers of savings in mail-in rebates!
$300 Rebate on the purchase of the Designer Diamond Royale
$200 Rebate on the Designer Ruby Royale
$100 Rebate on the Designer Topaz 50
Come in to the shop for details.

---
All About Diamonds
Elegant Pop-Up Flower Pillow Wrap
Friday, April 21 - 9:00 am

No matter which Designer Diamond you own, come explore some of its wonderful features
with Marty while you create this beautiful pillow wrap.
Complete supply list on website.

---
UPCOMING CLASSES



Thursday, April 6 - 10:00 am - Beginning Quilting by Machine with Isy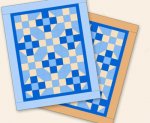 Saturday, April 8 - 10:00 am - Prairie Points Quilt Club
Monday, April 10 - 9:00 am - Holiday Table Runner with Marty - rescheduled from March


Wednesday, April 12 - 1:00 pm - Gems of the Prairie Art Bee

Thursday, April 13 - 10:00 am - Beginning Quilting by Machine with Isy

Saturday, April 15 - 9:00 am -

Farm Girl Vintage Quilt

with Patty




Saturday, April 15 - 10:30 am -
Make It Take It
with Denise
2:00
pm - Make It Take It
Saturday, April 15 - 1:00 pm - Foundation Paper Piecing Basics with Patty
Tuesday, April 18 - 1:00 pm or 5:00 pm - Sabrina Embroidered Quilt with Robyn

Wednesday, April 19 - 1:00 pm - Serging Round in Circles with Cyndy
5:00 pm - Serging Round in Circles with Cyndy




Thursday, April 20 - 10:00 am - Beginning Quilting by Machine with Isy
Thursday, April 20 - 5:30 pm - Sew Social with Patty
Thursday, April 20 - noon thru Sunday, April 23- noon -
Annual Spring Retreat
Friday, April 21 - 9:30 am - All About Diamonds - Elegant Pop Up Floral Pillow Wrap with Marty
Saturday, April 22 - 9:00 am - Smitten with Patty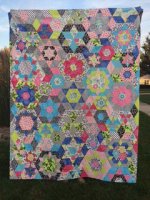 Saturday, April 22 - 1:00 pm- Allie Owl with Patty



Sunday, April 23 - 10:00 am - Sunday Sew-In with Jan

Tuesday, April 25 - 2:30 pm - New Owner's Class #1 with Martha

Tuesday, April 25- 6:00 pm - New Owner's Class #2 with Martha

Wednesday, April 26 - 1:00 pm - Serging Round in Circles with Cyndy
5:00 pm - Serging Round in Circles with Cyndy





Wednesday, April 27 - 10:00 am - Beginning Quilting by Machine with Isy