Skip Navigation
Website Accessibility
Make It Take It this Saturday


April 12, 2017

---
Make-It-Take-It
April 15
10:30am and 2:00pm


This French Market Tote is as beautiful as it is handy!
Make it in your favorite colors and carry it to class or to the market.
Please call the shop to register for class so Denise will have a kit for you.
Kit fee is $12.50.

---
April is National Serger Month!




Purchase a Huskylock s21 or s25 Serger in the month
of April - receive FREE Accessory Feet Kit!

---


One test-drive will convince you that the EPIC is
the best sewing/embroidery machine on the market!!
Purchase your machine at our great price and get a
$500 mail-in rebate from Husqvarna Viking!

---

April means great showers of savings in mail-in rebates!
$300 Rebate on the purchase of the Designer Diamond Royale
$200 Rebate on the Designer Ruby Royale
$100 Rebate on the Designer Topaz 50
See more details in the shop.

---
Foundations in Paper Piecing with Patty
Saturday, April 15 - 1:00 pm


Foundation Paper Piecing is a very accurate way and fun way to piece odd shapes and tiny shapes.
Learn how to measure, cut, align, and stitch fabric pieces to a paper foundation.

Patty will show you how to make a Jack O' Lantern block that can be turned into a mini quilt, a
hot pad, or added to a holiday quilt. The paper pattern will be provided.
---
UPCOMING CLASSES
Saturday, April 15 - 9:00 am - Farm Girl Vintage with Patty




Saturday, April 15 - 1:00 pm - Foundation Paper Piecing Basics with Patty
Saturday, April 15 - 10:30 am or 2:00 pm - Make It Take It with Denise
Tuesday, April 18 - 1:00 pm or 5:00 pm - Sabrina Embroidered Quilt with Robyn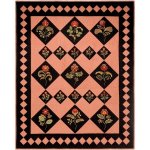 Wednesday, April 19 - 1:00 pm - Serging Round in Circles
with Cyndy
5:00 pm - Serging Round in Circles with Cyndy
Thursday, April 20 - 10:00 am - Beginning Quilting by Machine with
Isy




Thursday, April 20 thru Sunday, April 23 - 12:00pm - 12:00pm - Annual Spring Retreat

Thursday, April 20 - 5:30 pm - Sew Special with Patty

Friday, April 21 - 9:00 am - ADD Elegant Pop-Up Flower Pillow Wrap with Marty