Skip Navigation
Website Accessibility
Mother's Day Specials


May 3, 2017

---

Designer Ruby Royale Special - $4999 plus 60 month 0% financing.

---
Free Bonus Feet with purchase of any Opal 690Q, Opal 670 or Opal 650.



Bonus feet include Clear Piecing Foot with Guide, Closed Toe Free Motion
Spring Foot & Clear Open Toe Foot (A $99.95 value)
Offer valid from May 1 - 31, 2017

---
Fun and Flowers with Marty
What fun we are going to have - creating Garden Flags with our built in designs.
Bring your machine, Sampler Book, and a USB to share our creations.
No sewing this month – just having fun exploring the built-in designs and how
we might use them for decorating our garden and patio.
Take home this pattern for a garden flag and lots of ideas for other designs.
Class fee $25. 9 – 2:30 pm.
---
Churn Dash with Kelly Harvey
Monday, May 15 and Tuesday, May 30
5:00 to 8:00pm



You may know Kelly from Prairie Points Quilt Club - and now she's bringing her expertise and
fun to teaching classes at Prairie Points!!! Join as she shares tips for completing this
beautiful Churn Dash pattern from MSQC Block Magazine Volume 1 Issue 1.
---
Folded Star Trivet with Patty
Saturday, May 20 - 1:00 pm



Make a fun trivet in holiday fabrics, fabrics to match your kitchen, or as a gift.
Patty will show you how to make these quickly and easily!
---
UPCOMING CLASSES



Thursday, May 4 - 10:00 pm - Beginning Quilting by Machine with Isy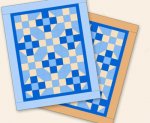 Friday, May 5 - 6:00 pm - Jackie Padesky Quilts Trunk Show

Saturday, May 6 -10:00 am - Jackie Padesky Pineapple Quilt Workshop