EPIC Flash Sale!


May 10, 2017

---
Our Sales Rep has authorized an unadvertised sale for the
next 5 days just in time for Mother's Day.




For the next 5 days, through May 15, 2017, we are authorized to offer new HusqvarnaViking Designer Epic sewing and embroidery machines that have been used once at an event for 30% off the MSRP price.
That's a $4,499 savings!
Plus we will throw in the $450 Deluxe Roller Bag for FREE!
To make it even sweeter, we can offer 60 month 0% interest financing to qualified individuals.
This would give you a payment of under $200 per month for 5 years, no interest!
If you have ever thought about purchasing the Epic, now is the time to check it out
!


---

NEW BOM !!!


All Around the Neighborhood Block of the Month


with Kelly Harvey and Deb Dvorak


Beginning June 17, 2017
Come be our neighbor and learn some new skills with this sampler quilt.
Block demos will be held at 11:00 am and 1:00 pm

on the 3rd Saturday of each month
Fun and prizes and the chance to earn PP "bucks" await!


Come into the shop for all the details but register soon so we can start cutting your kit.
---

Designer Ruby Royale Special - $4999 plus 60 month 0% financing.

---
Free Bonus Feet with purchase of any Opal 690Q, Opal 670 or Opal 650.


Bonus feet include Clear Piecing Foot with Guide, Closed Toe Free Motion
Spring Foot & Clear Open Toe Foot (A $99.95 value)
Offer valid from May 1 - 31, 2017
---
Serendipity means "the occurrence and development of events by chance in a happy or
beneficial way." This project is very happy and beneficial! Start with a jelly roll,
add some border fabrics and you get 2 separate quilts. Or combine all of those
blocks for 1 larger quilt. Class is 2 sessions
.
---
UPCOMING CLASSES
Thursday, May 11 -

10:00 am

- Beginning Quilting by Machine with Isy



Saturday, May 13 -

10:00 am

- Prairie Points Quilt Club
Monday, May 15 -

5:00 pm

- Churn Dash with Kelly



Tuesday, May 16 -

1:00 pm

or

5:00 pm

- Sabrina Embroidered Quilt with Robyn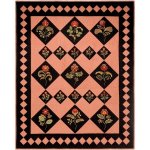 Thursday, May 18 -

10:00 am

-Beginning Quilting by Machine with Isy


Thursday, May 18 -5:30 pm - Sew Social with Patty

Saturday, May 20 - 9:00 am - Farm Girl Vintage with Patty


Thursday, May 25 - 2:30 pm - New Owner's Class #3 with Martha
6:00 pm - New Owner's Class #4 with Martha

Saturday, May 27 - 9:00 am - Smitten with Patty


Sat
urday, May 27 -

1:00 pm

-

Allie Owl

with Patty