Skip Navigation
Website Accessibility
Great May Specials

March 22, 2017
---

We will be closed on Monday, May 29th
to observe Memorial Day.


---
Cathedral Window Table Runner
Monday, June 12 and June 26
5:00 pm to 7:00 pm


Kelly has always loved Cathedral window blocks but has been too
intimidated to try one - until NOW! The Missouri Star Quilt Company
pattern and a charm pack makes this project super easy!
---
NEW BOM !!!
Neighborhood Block of the Month with Kelly Harvey and Deb Dvorak
Beginning June 17, 2017
Come be our neighbor and learn some new skills with this sampler quilt.
Block demos will be held at 11:00 am and 1:00 pm

on the 3rd Saturday of each month
Fun and prizes and the chance to earn PP "bucks" await!


Come into the shop for all the details but register soon so we can start cutting your kit.
---
Designer Ruby Royale Special - $4999 plus 60 month 0% financing.

---
Free Bonus Feet with purchase of any Opal 690Q, Opal 670 or Opal 650.


Bonus feet include Clear Piecing Foot with Guide, Closed Toe Free Motion
Spring Foot & Clear Open Toe Foot (A $99.95 value)

Offer valid from May 1 - 31, 2017
---
SPECIAL FINANCING
Valid May 24 - June 3, 2017
60 month 0% interest financing on these machines
•DESIGNER EPIC™ •DESIGNER DIAMOND Royale™ • DESIGNER RUBY Royale™
---
Upcoming Classes
Thursday, May 25 - 2:30 pm - New Owner's Class #3 with Martha
6:00 pm - New Owner's Class #4 with Martha

Saturday, May 27 - 9:00 am - Smitten with Patty



Saturday, May 27 - 1:00 pm - Allie Owl with Patty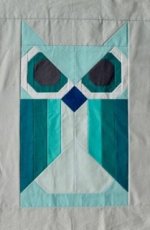 Monday,

May 29

- Shop Closed for the observance of

Memorial Day!
Saturday, June 3 - 9:00 am -Noon - Serendipity with Kelly