Skip Navigation
Website Accessibility
Midsummer Discount and Epic Special

June 21, 2017
---
Midsummer savings for our customers - YES, please!
How about 25% off all HV Machines, Accessories and Premier + software?!?!



Sale June 1st - 30th.
Sale prices are 25% off MSRP of in-stock items.

---
June HUSQVARNA VIKING® Designer Epic™ Promotion
Free Samsung Tablet with Epic purchase!!

Valid June 15-30, 2017
---
Husqvarna Viking announces the new Quick Design App for Epic Owners!
Use this app to take a photo on your phone and tablet and quickly create an embroidery design.
Then save it to your mySewnet™ Account and it will be synchronized to your
mySewnet™-compatible sewing and embroidery machine, ready for you to stitch out.
Choose from different filters for different sizes and effects on the generated embroidery design.



Here is a short You-Tube video showing you how it works:



Here's a link that will take you to the Android App download on Google Play:


Note: To be able to use this app in full you need to have a mySewnet™-compatible sewing and embroidery machine.
---
Upcoming Classes
Saturday, June 24 - 9:00 am - Smitten with Patty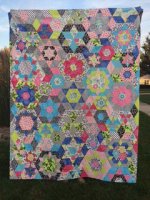 Sunday, June 25 - 10:00 am - Sunday Sew-In with Jan


Monday, June 26 - 5:00 pm - Cathedral Window Table Runner with Kelly




Thursday, June 29 - 5:00 pm - Sew Social with Patty and Kelly
Saturday, July 1 - 9:00 am - Serendipity with Kelly


Tuesday, July 4 - Closed for the observance of Independence Day


Friday, July 7 - 8:00 am - Platinum 3000 Training with Joyce


*This class is full but please call the shop to find out how to schedule a class for you and your bestie!*



Friday, July 7 - 10:00 am - Hand Piecing Club with Patty

Saturday, July 8 - 10:00 am - Prairie Points Quilt Club

Sunday, July 9 - 10:00 am - Sunday Sew-in with Jan

Wednesday, July 12 - 1:00 pm - Gems of the Prairie Art Bee

Thursday, July 13 - 10:00 am - Beginning Quilting by Machine with Isy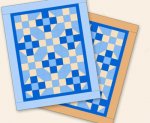 Saturday, July 15 - 9:00 am - Farm Girl Vintage with Patty

Saturday, July 15 - 11:00 am - Neighborhood BOM demo
1:00 pm - Neighborhood BOM demo

Saturday, July 15 - 1:00 pm - Hand Piecing Basics 102 with Patty

Thursday, July 20 - 10:00 am - Beginning Quilting by Machine with Isy

Thursday, July 20 - 5:00 pm - Sew Social with Patty and Kelly

Saturday, July 22 - 9:00 am - Smitten with Patty


Sunday, July 23- 10:00 am - Sunday Sew-in with Jan


Monday, July 24 - 5:00 pm - Trim the Tree with Kelly


Tuesday, July 25 - 2:30 pm - New Owner's Class #2 with Martha
6:00 pm - New Owner's Class #1 with Martha
Wednesday, July 26 - 6:00 pm -New Owner's Class EXTRA, EXTRA with Martha
Thursday, July 27 - 10:00 am - Beginning Quilting by Machine with Isy

Thursday, July 27 - 2:30 pm - New Owner's Class #4 with Martha
6:00 pm - New Owner's Class #3 with Martha

Saturday, July 29 - 9:00 am - Flying Geese with Patty



*Click on the links above to take you to the class descriptions on the website.*
**Don't forget to tell our clerk if your supplies are for a class to get your class discount**

---
Prairie Points Face Book Page
See you soon!
Denise and the Prairie Points staff

---
Prairie Points Quilt Shop
8851 N Knoxville Avenue
Peoria, Illinois 61615
(309)692-4340