Mid-Year Extravaganza starts tomorrow!

June 23, 2017
---
Mid-Year Extravaganza!




Can you believe it's halfway thru 2017??
To celebrate the first 6 months of the year and
help you get started on your holiday projects, we are having a special sale!

Buy 6 yards of fabric and get 1 yard free!
(Equal or lesser value, 1-yd minimum cut)!

ALSO, our Dept. 36 fabrics are $4/yard!!!

Sale valid Saturday, June 24 thru Wednesday, June 28.

---
Row by Row 2017 - On the Go!



And they're off!!!
Row by Row started June 21st
Many have already come to pick up their free pattern

Here is the row from Prairie Points, designed by Denise.
Our Quilter is On the Go around Peoria traveling from button to button!


Click here for more details on the Row by Row Experience Website.
Click this link for the Row By Row Experience Face Book page.

But what's even more exciting is Row by Row Experience's brand new program,
Row by Row Junior!
It's designed for kids ages 6 to 14.
They travel along with an adult and collect free row patterns designed just for them to make.
Kids need to come in to the shop to get the free pattern handout, but anyone can buy a kit.
Grandmothers and traveling family can bring them home as gifts or souvenirs.
We'll be awarding "I Made This!" ribbons to the first five kids who return
with something made using a Row by Row Junior pattern.
Any sewing effort will be celebrated, not just quilting.
Find Row by Row Junior's free online activities, kids' journal pages, support
for learning to sew at home, and more at the link below.
www.rowbyrowexperience.com


---

June

Shop

Special


Valid

June

1

-

30




Get your July celebration quilts done now!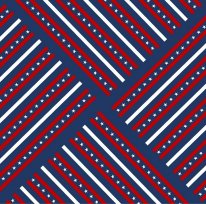 15% off all Red, White and Blue Fabrics

---
What's New

!


The newest Missouri Block Quilt Company Block Magazine
is in now! Summer Volume 4, Issue 3 is on the shelf now!


---
Upcoming Classes
Saturday, June 24 - 9:00 am - Smitten with Patty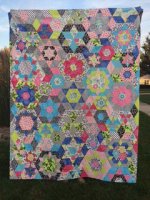 Sunday, June 25 - 10:00 am - Sunday Sew-In with Jan
Monday, June 26 - 5:00 pm - Cathedral Window Table Runner with Kelly
Thursday, June 29 - 5:00 pm - Sew Social with Patty and Kelly
Saturday, July 1 - 9:00 am - Serendipity with Kelly


Tuesday, July 4 - Closed for the observance of Independence Day


Friday, July 7 - 8:30 am - Platinum 3000 Training with Joyce


*This class is full but call the shop to find out how to schedule a class for you and your bestie!*



Friday, July 7 - 10:00 am - Hand Piecing Club with Patty

Saturday, July 8 - 10:00 am - Prairie Points Quilt Club

Saturday, July 8 - 12:30 pm - Color Wheel Pattern Testers with Kelly




Sunday, July 9 - 10:00 am - Sunday Sew-in with Jan

Wednesday, July 12 - 1:00 pm - Gems of the Prairie Art Bee

Thursday, July 13 - 10:00 am - Beginning Quilting by Machine with Isy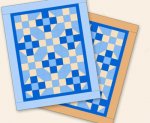 Saturday, July 15 - 9:00 am - Farm Girl Vintage with Patty

Saturday, July 15 - 11:00 am - Neighborhood BOM demo
1:00 pm - Neighborhood BOM demo

Saturday, July 15 - 1:00 pm - Hand Piecing Basics 102 with Patty


Thursday, July 20 - 10:00 am - Beginning Quilting by Machine with Isy
Thursday, July 20 - 5:00 pm - Sew Social with Patty and Kelly
Saturday, July 22 - 9:00 am - Smitten with Patty


Sunday, July 23- 10:00 am - Sunday Sew-in with Jan


Monday, July 24 - 5:00 pm - Trim the Tree with Kelly


Tuesday, July 25 - 2:30 pm - New Owner's Class #2 with Martha
6:00 pm - New Owner's Class #1 with Martha
Wednesday, July 26 - 6:00 pm -New Owner's Class EXTRA, EXTRA with Martha
Thursday, July 27 - 10:00 am - Beginning Quilting by Machine with Isy

Thursday, July 27 - 2:30 pm - New Owner's Class #4 with Martha
6:00 pm - New Owner's Class #3 with Martha

Saturday, July 29 - 9:00 am - Flying Geese with Patty



*Click on the links above to take you to the class descriptions on the website.*
**Don't forget to tell our clerk if your supplies are for a class to get your class discount**

---
Prairie Points Face Book Page
See you soon!
Denise and the Prairie Points staff

---
Prairie Points Quilt Shop
8851 N Knoxville Avenue
Peoria, Illinois 61615
(309)692-4340
&