Skip Navigation
Website Accessibility
Order your Premier+2 now - Get it before it launches!

August 16, 2017
---

You can be one of the lucky ones !
Purchase the brand-new Premier +2 Software now and
you'll get to download it a month before it's launched!!!!



Click the image for more info.

---

All of our Koala floor models are up to 30 % off!
Limited to stock on hand!
---
Foundation Paper Piecing Basics with Patty
Saturday, August 19 - 1:00 pm



Foundation Paper Piecing is a very accurate way to piece odd shapes and tiny shapes.
Learn how to measure, cut, align, and stitch fabric pieces to a paper foundation.
You will
make a Jack O' Lantern block that can be turned into a mini quilt, a hot pad, or added
to a holiday quilt. The paper pattern will be provided.
---
Beginning Collage Quilting
with Marty
Monday, September 11 - 9:00 am
Marty's hooked and you will be too when you begin to explore this exciting new world of collage.
She has visited the studio in Billings MT twice and talked with Laura Heine more than once at
market about her technique and ways to explore and teach collage quilts. Her advice – Just Do It!
---
Upcoming Classes
Thursday, August 17 - 5:30 pm - Sew Social with Kelly and Patty

Saturday, August 19 - 9:00 am - Farm Girl Vintage with Patty




Saturday, August 19 - 12:30 pm - Color Wheel Pattern Testers with Kelly




Saturday, August 19 - 11:00 am and 1:00 pm - Neighborhood BOM




Saturday, August 19 - 1:00 pm - Foundation Paper Piecing Basics with Patty

Monday, August 21 - 5:00 pm - Tall Trim the Tree with Kelly


Saturday, August 26 - 9:00 am - Dogs in Sweaters with Patty


Sunday, August 27 - 10:00 am - Sunday Sew-In with Jan
Wednesday, August 30 - 5:00 pm - Every Which Way Quilt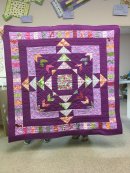 Saturday, September 2 - 9:00 am - SchoolHouse 2017

Saturday, September 9 - 10:00 am - Prairie Points Quilt Club

Sunday, September 10 - 10:00 am - Sunday Sew-In with Jan

Monday, September 11 - 9:00 am - Beginning Collage Quilting with Marty

Wednesday, September 13 - Holiday Folded Bags with Kelly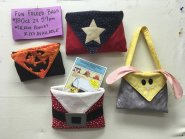 Thursday, September 14 - 6:00 pm - Quilting with Templates with Marty

Saturday, September 16 - 9:00 am - Farm Girl Vintage with Patty

Saturday, September 16 - 11:00 am & 1:00 pm- Neighborhood Block of the Month
Tuesday, September 19 - 1:00 pm & 5:00 pm - Double Wedding Ring with Robyn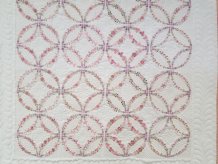 Thursday, September 21 - 5:30 pm - Sew Social with Kelly and Patty

Saturday, September 23 - 9:00 am - Dogs in Sweaters with Patty

Saturday, September 23 - 10:00 am - Quilts of Valor Workshop

Sunday, September 24 - 10:00 am - Sunday Sew-In with Jan

Tuesday, September 26 - 2:30 pm - New Owner's Class #1 with Martha

Tuesday, September 26 - 6:00 pm - New Owner's Class #2 with Martha

Thursday, September 28 - 2:30 pm - New Owner's Class #3 with Martha

Thursday, September 28 - 6:00 pm - New Owner's Class #4 with Martha

Saturday, September 30 - 12:00 pm - Quilting with Templates 11 with Marty





*Click on the links above to take you to the class descriptions on the website.*
**Don't forget to tell our clerk if your supplies are for a class to get your class discount**

---
Prairie Points Face Book Page
See you soon!
Denise and the Prairie Points staff

---
Prairie Points Quilt Shop
8851 N Knoxville Avenue
Peoria, Illinois 61615
(309)692-4340<span style="font-family: 'comic sans ms',sans-serif; te