Skip Navigation
Website Accessibility
National Sew A Jelly Roll Day tomorrow!

September 15, 2017

---
Join us for National Sew a Jelly Roll Day!

We will have fun, treats and prizes throughout the day!
Deb Dvorak has updated our zipper pouch instructions to make them Jelly Roll friendly.
We will have machines set up in the classroom ready to sew one up quick and easy!
Call the shop to reserve your kit!

While you are there, take a stroll around to find hidden Prairie Points made
from Moda Bella Solid Jelly Roll strips throughout the shop.
Find your
Prairie Point and bring it to the register to find your fortune revealed inside!


(One per customer please!)
---
September Shop Special
15% off all BATTING!
Packaged or by the yard. In stock only.
September 1 - 30, 2017
---
Have you seen.....???

9 beautiful prints from Art Gallery Fabrics.
You have to feel these silky prints to appreciate them fully!!!



Cloud Spa from Shannon.
What makes this Cuddle so special is that it is double-sided!!
We are using it to make the Indigo Junction Warm and Cozy Wrap!!
Perfect for those cool fall nights!


---
Upcoming Classes
Saturday, September 16 - 9:00 am - Farm Girl Vintage with Patty

Saturday, September 16 - 11:00 am & 1:00 pm- Neighborhood Block of the Month
Saturday, September 16 - 10am -

National Sew a Jelly Roll Day! Come join us for fun, prizes and treats!
Tuesday, September 19 - 1:00 pm & 5:00 pm - Double Wedding Ring with Robyn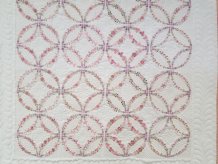 Thursday, September 21 - 5:30 pm - Sew Social with Kelly and Patty


Saturday, September 23 - 9:00 am - Dogs in Sweaters with Patty


Saturday, September 23 - 10:00 am - Quilts of Valor Workshop


Sunday, September 24 - 10:00 am - Sunday Sew-In with Jan

Tuesday, September 26 - 2:30 pm - New Owner's Class #1 with Martha

Tuesday, September 26 - 6:00 pm - New Owner's Class #2 with Martha

Thursday, September 28 - 2:30 pm - New Owner's Class #3 with Martha

Thursday, September 28 - 6:00 pm - New Owner's Class #4 with Martha

Saturday, September 30 - 12:00 pm - Quilting with Templates 11 with Marty



Thursday, October 5 - 10:00 am - Day and Night with Isy


Thursday, October 5 - 6:00 pm - Quilting with Templates with Marty

Saturday, October 7 - 9:00 am - Farm Girl Vintage with Patty - *Note date change due to Shop Hop*

Sunday, October 8 - 10:00 am - Sunday Sew-In with Jan

Monday, October 9 - 9:00 am - Beginning Collage Quilting with Marty


Monday, October 9 - 5:00 pm - Tall Trim the Tree with Kelly


Wednesday, October 11 - 5:00 pm - Lovely Layers with Kelly


Friday and Saturday, October 13, 14, 20 and 21 - Central Illinois Shop Hop
*Click on the links above to take you to the class descriptions on the website.*
**Don't forget to tell our clerk if your supplies are for a class to get your class discount**

---
Prairie Points Face Book Page
See you soon!
Denise and the Prairie Points staff

---
Prairie Points Quilt Shop
8851 N Knoxville Avenue
Peoria, Illinois 61615
(309)692-4340