Skip Navigation
Website Accessibility
FREE Designs with Purchase at 15% Discount
---

December 13, 2017
We will be closed on Monday, December 25th for Christmas

and

Monday, January 1st for New Year's Day!
---
Now until Saturday - Get 15% off and
100 FREE DESIGNS
when you purchase Premier+2 Software.




Stop by the shop for details!

---
Prairie Points Quilt Club meets on the 2nd Saturday of each month, except October,

from 10am to noon-ish, with Patty, Kelly and Hallie leading the group.
We have great skill building projects, ideas for new projects,
"What's New", treats, show and tell and LOTS of fun.
Annual Dues are $35.
Club fee includes a 10% discount off the regular price of your purchases in the store.
Spots are limited, first come, first serve.
Call or come in to the shop to reserve your spot.
---
What's New?
"The Dress" by Laura Heine for Free Spirit.

Panel & 4 coordinates
Just in time for Marty's class in January.
Sign up today!
---


Christmas
Countdown
continues
!!!!

Come in, purchase the deal of the day and enter for your chance to win!

Drawing will be held at the close of business on Saturday, December 23rd.
---
Saturday, December 16 - 10:00 am and 12:00 pm - Snowmen on Parade BOM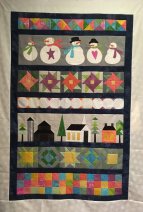 Saturday, December 16 - 11:00 am and 1:00 pm - Neighborhood BOM




Thursday, December 21 - 5:30 pm - Sew Social with Patty



Monday, December 25 - Closed for Christmas Day





Saturday, December 30 - 10:00 am - Quick Curve Mini Table Runner with Kelly






Monday, January 1 - Closed on New Year's Day!



Saturday, January 6 & Sunday, January 7 - 10:00 am - Platinum 3000 LongArm Training

Monday, January 8 - 12:00pm - Continuing Collage Quilting with Marty




Wednesday, January 10 - 6:00 pm - New Owner's Class #2 with Martha

Thursday, January 11 - 6:00 pm - New Owner's Class #4 with Martha

Friday, January 12 - 9:00 am - Epic Upcycle with Marty




Sunday, January 14 - 10:00 am - Sunday Sew-In with Jan

Friday, January 19 - 9:00 am - Meadow Dance Borders Templates with Marty

Saturday, January 20 - 10:00 am and 12:00 pm - Snowmen on Parade BOM

Saturday, January 20 - 11:00 am and 1:00 pm - Neighborhood BOM

Wednesday, January 24 - 2:30 pm - EPIC New Owner's Class with Martha

Thursday, January 25 - 5:30 pm - Strip Club

Friday, January 26 - 9:00 am - Meadow Dance Feathers Template with Marty

Saturday, January 27 - 10:00 am - Quick Curve Mini Pumpkins with Kelly




Saturday, January 27 - 10:30 am - Mini Quilt Club

Sunday, January 28 - 10:00 am - Sunday Sew-In with Jan


*Click on the links above to take you to the class descriptions on the website.*
** Don't forget to tell our clerk that your purchase contains class supplies so you get your discount!**
---
Prairie Points
8851 N. Knoxville Avenue
Peoria, Illinois 61615
(309)692-4340