Skip Navigation
Website Accessibility
Gift Cards - One Size Fits All!
---

December 20, 2017
We will be closed on Monday, December 25th for Christmas

and

Monday, January 1st for New Year's Day!
---
One Size Fits All - and sure to please!!!
Make your Christmas shopping easy with a Gift Card
in any amount you choose!
---

Get the new EPIC 980Q early and give yourself a gift!
Offer valid December 1 - 31, 2017
---
Calendar of Savings

Buy a machine - get a free Coupon Calendar!
Valid December 1 - 31.
Details in shop.
---
Holiday Rebate of $500 and
72 months same-as-cash-financing

on the Designer EPIC.
Valid December 1 - 31.
---

Christmas
Countdown
continues
!!!!

Come in, purchase the deal of the day and enter for your chance to win!

Drawing will be held at the close of business on Saturday, December 23rd.
---

Thursday, December 21 - 5:30 pm - Sew Social with Patty



Monday, December 25 - Closed for Christmas Day





Saturday, December 30 - 10:00 am - Quick Curve Mini Table Runner with Kelly






Monday, January 1 - Closed on New Year's Day!



Saturday, January 6 & Sunday, January 7 - 10:00 am - Platinum 3000 LongArm Training

Monday, January 8 - 12:00pm - Continuing Collage Quilting with Marty




Wednesday, January 10 - 6:00 pm - New Owner's Class #2 with Martha

Thursday, January 11 - 6:00 pm - New Owner's Class #4 with Martha

Friday, January 12 - 9:00 am - Epic Upcycle with Marty




Sunday, January 14 - 10:00 am - Sunday Sew-In with Jan

Friday, January 19 - 9:00 am - Meadow Dance Borders Templates with Marty

Saturday, January 20 - 10:00 am and 12:00 pm - Snowmen on Parade BOM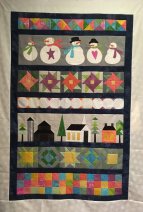 Saturday, January 20 - 11:00 am and 1:00 pm - Neighborhood BOM


Wedn
<span style="font-size: 12pt; font-fami