Skip Navigation
Website Accessibility
Final days of our Inventory Reduction Sale
---

January 3, 2018
---
Wednesday, December

27 - Saturday, January 6
Dept 36 Fabrics are $5/yd (1 yard minimum).
Seasonal fabrics (Halloween, Thanksgiving, Christmas) are 40% off.
Seasonal patterns and kits - also 40% off.
Everything else is 20% off MSRP (some exclusions apply).
---
Combine the Fresh Start Trade In Value Event
with the best financing available - and

the Designer EPIC can be yours!
Valid until January 31st.
See details in the shop.
---
With Winter in full force now,
please contact the shop before you drive out.
We will follow ICC's closure schedule - but it's always good to check!
As much as we want
to see you - your safety is much more important!
Our phone number is 309-692-4340.
Thank you and be safe!
Denise and the Prairie Points Staff
---

Saturday, January 6 & Sunday, January 7 - 10:00 am - Platinum 3000 LongArm Training

Monday, January 8 - 12:00pm - Continuing Collage Quilting with Marty




Wednesday, January 10 - 2:30 pm - New Owner's Class #1 with Martha

Wednesday, January 10 - 6:00 pm - New Owner's Class #2 with Martha

Wednesday, January 11 - 2:30 pm - New Owner's Class #3 with Martha

Thursday, January 11 - 6:00 pm - New Owner's Class #4 with Martha

Friday, January 12 - 9:00 am - Epic Upcycle with Marty




Saturday, January 13 - 10:00 am - Prairie Points Quilt Club

Sunday, January 14 - 10:00 am - Sunday Sew-In with Jan

Wednesday, January 17 - 1:00 pm - Gems of the Prairie Art Bee

Friday, January 19 - 9:00 am - Meadow Dance Borders Templates with Marty

Saturday, January 20 - 10:00 am and 12:00 pm - Snowmen on Parade BOM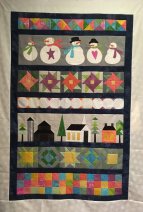 Saturday, January 20 - 11:00 am and 1:00 pm - Neighborhood BOM


Wednesday, January 24 - 2:30 pm - EPIC New Owner's Class with Martha
Thursday, January 25 - 5:30 pm - Strip Club

Friday, January 26 - 9:00 am - Meadow Dance Feathers Template with Marty
Saturday, January 27 - 10:00 am - Quick Curve Mini Pumpkins with Kelly
Saturday, January 27 - 10:30 am - Mini Quilt Club
Sunday, January 28 - 10:00 am - Sunday Sew In with Jan
*Click on the links above to take you to the class descriptions on the website.*
** Don't forget to tell our clerk that your purchase contains class supplies so you get your discount!**

---
Prairie Points
8851 N. Knoxville Avenue
Peoria, Illinois 61615
309-692-4340