Skip Navigation
Website Accessibility
Still room for YOU at Quilt Club
---

January 19, 2018
---

Would you like to learn to quilt from the very beginning?
Prairie Points is gearing up to once again offer our Beginning Quilting Class.
This time we will have both day and evening options available.
Isabelle will be teaching during the day and
Deb during the evening.
Please call or visit the shop and let us know what
works for your schedule.
(309)692-4340.
---
Stitch together some friendships at Quilt Club!!!
Prairie Points Quilt Club
meets on the 2nd Saturday of each month (except October)
from 10am to approximately noon, with Patty, Kelly and Hallie leading the group.
We have a great free project, ideas for new projects, treats, a show and tell time and
LOTS of fun each month. Yearly dues are $35.
Club fee also includes a 10% discount off regular price of almost everything in the shop.
---

New Patterns from Flying Parrot Quilts
by Designer Sylvia Schaefer.

---

Saturday, January 20 - 10:00 am - Quick Curve Mini Table Runner with Kelly

Saturday, January 20 - 10:00 am and 12:00 pm - Snowmen on Parade BOM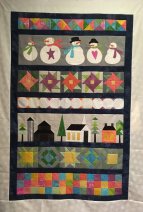 Saturday, January 20 - 11:00 am and 1:00 pm - Neighborhood BOM


Wednesday, January 24 - 2:30 pm - EPIC New Owner's Class with Martha
Thursday, January 25 - 5:30 pm - Strip Club

Friday, January 26 - 9:00 am - Meadow Dance Feathers Template with Marty
Saturday, January 27 - 10:00 am - Quick Curve Mini Pumpkins with Kelly
Saturday, January 27 - 10:30 am - Mini Quilt Club


Sunday, January 28 - 10:00 am - Sunday Sew In with Jan

Tuesday, January 30 - 1:00 pm - Serger Affair with Cyndy Monier


Sunday, February 4 - 10:00 am - Quilts of Valor Workshop with Kelly

Friday, February 9 - 9:00 am - Westalee Quilt in a Bag with Marty

Saturday, February 10 - 10:00 am - Prairie Points Quilt Club

Sunday, February 11 - 10:00 am - Sunday Sew-In with Jan

Monday, February 12 - 5:00 pm - Snowy Hearts Reverse Applique with Kelly




Wednesday, February 14 - 1:00 pm - Gems of the Prairie Art Bee


Saturday, February 17 - 10:00 am and 12:00 pm - Snowmen on Parade Block of the Month

Saturday, February 17 - 11:00 am and 1:00 pm - Neighborhood Block of the Month

Tuesday, February 20 - 1:00 pm and 5:00 pm - Miranda Embroidery Quilt Club with Robyn

Friday, February 23 - 9:00 am - Westalee Quilt in a Bag with Marty

Saturday, February 24 - 10:00 am - Quick Curve - Mini Rings with Kelly

Saturday, February 24 - 10:30am - Mini Quilt Club




*Click on the links above to take you to the class descriptions on the website.*
** Don't forget to tell our clerk that your purchase contains class supplies so you get your discount!**

---