Mini Quilt Club starts Saturday
---

January 24, 2018
---
Introducing the NEW Mini Quilt Club!!!
Beginning January 27, we have a new monthly Club opportunity for you!!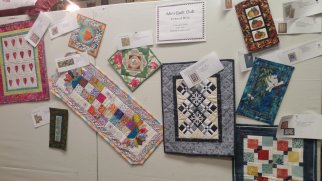 Join us the 4th Saturday of each month from 10:30 until about noon.
We will have a demo of the month's mini quilt, including tips for completing your own!
Of course, there will also be a "show and tell" time and treats!!


Cost is $20 per month which includes the pattern and the fabric for the mini of the month.
Or get a month free by paying for 5 months in advance.
That's $100 for 6 patterns and the fabric.
Call or come by the shop to join the club!
---
Happy 2018!!! Ring up these savings!!
Valid until January 31st.
---
Combine the Fresh Start Trade In Value Event
with the best financing available - and

the Designer EPIC can be yours!

---
With Winter in full force now,
please contact the shop before you drive out.
In general, we will follow ICC's closure schedule - but it's always good to check!
As much as we want
to see you - your safety is much more important!
Our phone number is 309-692-4340.
Thank you and be safe!
Denise and the Prairie Points Staff
---
Thursday, January 25 - 5:30 pm - Strip Club

Friday, January 26 - 9:00 am - Meadow Dance Feathers Template with Marty

Saturday, January 27 - 10:00 am - Quick Curve Mini Pumpkins with Kelly




Saturday, January 27 - 10:30 am - Mini Quilt Club



Sunday, January 28 - 10:00 am - Sunday Sew In with Jan

Tuesday, January 30 - 1:00 pm - Serger Affair with Cyndy

Sunday, February 4 - 10:00 am - Quilts of Valor Workshop with Kelly

Friday, February 9 - 9:00 am - Westalee Quilt in a Bag with Marty

Saturday, February 10 - 10:00 am - Prairie Points Quilt Club

Sunday, February 11 - 10:00 am - Sunday Sew-In with Jan

Monday, February 12 - 5:00 pm - Snowy Hearts Reverse Applique with Kelly




Wednesday, February 14 - 1:00 pm - Gems of the Prairie Art Bee

Saturday, February 17 - 10:00 am and 12:00 pm - Snowmen on Parade Block of the Month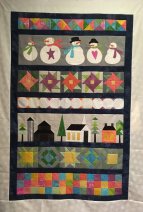 Saturday, February 17 - 11:00 am and 1:00 pm - Neighborhood Block of the Month




Tuesday, February 20 - 1:00 pm or 5:00 pm - Miranda Embroidery Quilt Club with Robyn

Friday, February 23 - 9:00 am - Westalee Quilt in a Bag with Marty

Saturday, February 24 - 10:00 am - Quick Curve Mini Rings with Kelly




Saturday, February 24 - 10:30 am - Mini Quilt Club

Sunday, February 25 - 10:00 am - Sunday Sew-In with Jan

Sunday, February 25 - 1:00 pm - Ruler Work - Let's start at the very beginning. with Marty




Monday, February 26 - 5:00 pm - Cathedral Window Table Runner with Kelly




Tuesday, February 27 - 2:30 pm - New Owner's Class #2 with Martha

Tuesday, February 27 - 6:00 pm - New Owner's Class #1 with Martha

*Click on the links above to take you to the class descriptions on the website.*
** Don't forget to tell our clerk that your purchase contains class supplies so you get your discount!**

---