Skip Navigation
Website Accessibility
Sign up for PP Annual Spring Retreat
---

February 16, 2018
---
Prairie Points Annual Spring Retreat

AmericInn Lodge and Suites,


9106 North Lindbergh Drive, Peoria, IL

.
Thursday, April 26th from noon until Sunday, April 29th at noon.

The "sewing room" at the AmericInn has been reserved for the annual spring retreat!
Registration is now open so please sign up soon if you want to attend.
Space is limited! Prairie Points will arrange for the large group sewing room only.
The cost for this is $70. Call or come in to the shop to sign up!
---
Quick Curve Ruler Quilt - Mini Rings
Saturday, February 24 at 10:00am




Learn to make a great wedding ring the Quick Curve Way!
This is so much easier than it looks. Kelly Harvey will show you how!

Click on the link above for more info and call to register!!

---
Beginning Quilting



Morning Classes with Isy beginning March 1 at 10:00 am
Evening Classes with Deb going on now. New ones will be scheduled as needed.
This class will introduce you to quilting by machine and rotary cutting. You will
learn tips and tricks, beginning with choosing fabrics, to make your quilting
journey a successful one.
---
February Shop Special
15% off all Patriotic Panels and Fabrics


Valid thru February 28th.
In-stock only, please.

---

Latest copy of Modern Quilts Unlimited is in now!!
---
UPCOMING CLASSES
Saturday, February 17 - 10:00 am and 12:00 pm - Snowmen on Parade Block of the Month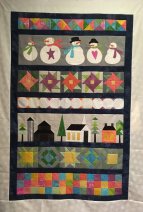 Saturday, February 17 - 11:00 am and 1:00 pm - Neighborhood Block of the Month
Monday, February 19 - 5:30 pm - Beginning Quilting by Machine with Deb


Tuesday, February 20 - 1:00 pm and 5:00 pm - Miranda Embroidery Quilt Club with Robyn

Friday, February 23 - 9:00 am - Westalee Quilt in a Bag with Marty


Saturday, February 24 - 10:00 am - Quick Curve - Mini Rings with Kelly
Saturday, February 24 - 10:30 am - Mini Quilt Club
Sunday, February 25 - 10:00 am - Sunday Sew-In with Jan - CANCELLED. See ya next month!
Sunday, February 25 - 1:00 pm - Ruler Work - Let's Start at the Very Beginning with Marty
Monday, February 26 - 5:00 pm - Cathedral Window Table Runner with Kelly
Monday, February 26 - 5:30 pm - Beginning Quilting by Machine with Deb
Tuesday, February 27 - 2:30 pm - New Owner's Class #2 with Martha
Tuesday, February 27 - 6:00 pm - New Owner's Class #1 with Martha
Thursday, March 1 - 10:00 am - Beginning Quilting by Machine with Isabelle




Thursday, March 1 - 2:30 pm - New Owner's Class #4 with Martha

Thursday, March 1 - 6:00 pm - New Owner's Class #3 with Martha

Saturday, March 3 - 10:00 am - T-Shirt Quilt with Claudette


Monday, March 5 - 5:30 pm - Beginning Quilting by Machine with Deb
Tuesday, March 6 - 5:30 pm - Panel Bargello with Deb


Thursday, March 8 - 10:00 am - Beginning Quilting by Machine with Isy
Friday, March 9 - 9:00 am - Westalee Quilt in a Bag with Marty
Saturday, March 10 - 10:00 am - Prairie Points Quilt Club

*Click on the links above to take you to the class description and more info*
** Don't forget to tell our clerk that your purchase contains class supplies so you get your discount!**
---