March 29,
2019
---
5th Saturday Demo on Saturday, March 30
from 11:00am - 2:00pm.
Join us on the last Saturday of March for awesome demos
on some new products and techniques including:

- Braid Template,
- Ten Sisters Easy Fusible Grid
- Kimberbell demos

Come learn something new with us!
---

Join us for the Northcott Stonehenge 10th Anniversary Solstice Quilt Challenge!




We have the panel and all the fabrics in the Solstice collection


for the panel challenge

and we are participating in the block party.




There are some great prizes for the winners!
Click HERE for more info from Northcott !

Our block for this challenge has been designed by
our own Deb Dvorak and is just stunning!!!
It's called "Equinox".



Come see this block and get more details now.

---

Cedar Mills Block Of the Month starts in June of 2019!
Come in to the shop to see the beautiful Cedar Mills BOM Quilt and sign up !
It is done in the bright batik colorway we will be doing (if you purchase the kit).
We will host it thru the end of the month, and then it moves on to the next participating shop.
$175 Gift Card purchase includes registration fee, pattern and fabrics for top & binding.
---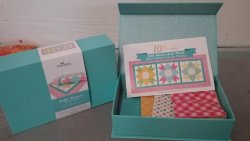 Ready for the first Riley Blake Table Runner of the Month?
Here's a sweet design for Spring!
---
20 % off all in-stock BOOKS

---
UPCOMING CLASSES

Saturday, March 30 - 11:00 am - 5th Saturday Demos

Saturday, April 13 - 10:00 am - Prairie Points Quilt Club

Sunday, April 14 - 10:00 am - Sunday Sew-In with Jan

Saturday, April 20 - Kimberbell Club and Heritage BOM will be back next month.

Sunday, April 21 -


Tuesday, April 23 - SAVE THE DATE ! - HV Educator Christine Harlan will be hosting classes.
More info coming soon.

Thursday, April 25 - 5:30 pm - Strip Club

Thursday, April 25 thru Sunday, April 28 - Prairie Points Annual Spring Retreat

Sunday, April 28 - 10:00 am - Sunday Sew-In with Jan

Saturday, May 11 - 10:00 am - Prairie Points Quilt Club

Saturday, May 18 - 10:00 am - Kimberbell Embroidery Club

Saturday, May 18 - Noon - Heritage BOM

Saturday, May 18 - 1:00 pm - Sew Hometown BOM

* Click on the links to get more info about classes on our website.*
**Don't forget to make our clerk aware that you are purchasing supplies
for class to receive your class discount.**

---
CLASS POLICIES
- Payment for class is expected at time of enrollment, unless other
arrangements are made with the instructor.
- Store credit will be issued for cancellations during the week before
class up until within 24 hours.
- No credit or refund for cancellations less than 24 hours before the
start of the class.

---
Prairie Points website

Prairie Points Facebook Page

See you soon!
Denise and the Prairie Points Staff

---
Prairie Points Quilt Club
8851 N. Knoxville
Peoria, Illinois 61615
309-692-4340