Skip Navigation
Website Accessibility
Still time to join the Thread Club!!!
---

May 17,
2019
---
Aurifil Thread Club!
Buy this thread box, which includes one spool of white thread, for $14.99.
Also in the box are twelve coupons - one for each month, May 2019 - April 2020 -
for

25% off 1 large spool of Aurifil thread.

*
This is a "can't lose" club - even if you don't buy another spool of thread - you still
have this really cool box and a large spool of thread!
Please be sure to sign up soon before we run out of boxes!!

* Some restrictions apply. Come into the shop for details.
---
Look at all these beautiful Kona solids from Kaufman!
A whole rainbow and then some - new this week!
---

Cedar Mills Block Of the Month starts in June of 2019!
Come in to the shop to sign up !
$175 Gift Card purchase includes registration fee, pattern and fabrics for top & binding.
---
15 % off all regularly priced KITS!!!
In stock only, please!

---
UPCOMING CLASSES
Saturday, May 18 - 10:00 am - Kimberbell Embroidery Club




Saturday, May 18 - Noon - Heritage BOM

Saturday, May 18 - 1:00 pm - Sew Hometown BOM




Wednesday, May 29 - 1:00 pm - Beginning Quilting with Claudie

Saturday, June 1 - 9:00 am - Dresden Sunburst Piecing Class with Kelly




Wednesday, June 5 - 1:00 pm - Beginning Quilting with Claudie

Saturday, June 8 - 10:00 am - Prairie Points Quilt Club

Saturday, June 8 - 12:30 pm - Kimberbell Embroidery Club *Note change in day and time*

Sunday, June 9 - 10:00 am - Sunday Sew-In with Jan

Wednesday, June 12 - 1:00 pm - Beginning Quilting with Claudie

Saturday, June 15 - 11:00 am - Cedar Mills Block of the Month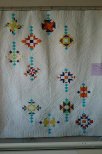 Saturday, June 15 - 1:00 pm - Sew Hom