May 25,
2019
We will be closed on Monday, May 27.
Thanks!
---
Cedar Mills Block Of the Month starts in June of 2019!
Come in to the shop to sign up !
$175 Gift Card purchase includes registration fee, pattern and fabrics for top & binding.
---

Aurifil Thread Club!
Buy this thread box, which includes one spool of white thread, for $14.99.
Also in the box are twelve coupons - one for each month, May 2019 - April 2020 -
for

25% off 1 large spool of Aurifil thread.

*
This is a "can't lose" club - even if you don't buy another spool of thread - you still
have this really cool box and a large spool of thread!
Please be sure to sign up soon before we run out of boxes!!

* Some restrictions apply. Come into the shop for details.
---

We bid a sad, but fond farewell to the design skills of Amy Butler.
After 20 years with Free Spirit, Amy is retiring from designing fabrics.
Her last collection, "Natural Beauty", epitomizes her style and eye for color.
We have FQ bundles, 2 1/2" strips and yardage of Natural Beauty.
We have also received FQ bundles of some of Amy Butler's most popular designs
called the "Farewell Collection." Hurry and get yours before they're gone forever!!!

---
15 % off all regularly priced KITS!!!
In stock only, please!

---
UPCOMING CLASSES
Sunday, May 26 - 10:00 am - Sunday Sew-In with Jan

Monday, May 27 - Closed for the observance of Memorial Day

Wednesday, May 29 - 1:00 pm - Beginning Quilting with Claudie

Saturday, June 1 - 9:00 am - Dresden Sunburst Piecing Class with Kelly




Wednesday, June 5 - 1:00 pm - Beginning Quilting with Claudie

Saturday, June 8 - 10:00 am - Prairie Points Quilt Club

Saturday, June 8 - 12:30 pm - Kimberbell Embroidery Club *Note time and day change*

Sunday, June 9 - 10:00 am - Sunday Sew-In with Jan

Wednesday, June 12 - 1:00 pm - Beginning Quilting with Claudie

Saturday, June 15 - 11:00 am - Cedar Mills Block of the Month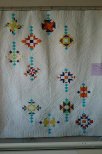 Saturday, June 15 - 1:00 pm - Sew Hometown BOM

Wednesday, June 19 - 1:00 pm - Beginning Quilting with Claudie

Saturday, June 22 - 9:00 am - Quilts of Valor Workshop

Sunday, June 23- 10:00 am - Sunday Sew-In with Jan

Monday, June 24 - 2:30 pm - New Owner's Class #1 with Claudie

Tuesday, June 25 - 2:30 pm - New Owner's Class #2 with Claudie

Wednesday, June 26 - 1:00 pm - Beginning Quilting with Claudie

Wednesday, June 26 - 5:00 pm - New Owner's Class #3 with Claudie

Thursday, June 27 - 5:00 pm - New Owner's Class #4 with Claudie

Saturday, June 29 - 11:00 am - 5th Saturday Demos


* Click on the links to get more info about classes on our website.*
**Don't forget to make our clerk aware that you are purchasing supplies
for class to receive your class discount.**

---