Skip Navigation
Website Accessibility
5th Saturday Demo Day in June
---

June 7,
2019
---
5th Saturday Demo Day this month!
Saturday, June 29th,
11am - 2pm.

Come on in to the shop to see demos on the slotted triangle trimmer, special machine feet & more!
Plan on getting some inspiration for your summer sewing!


---
Cedar Mills Block Of the Month starting now!




Come in to the shop for details and to sign up!
---
Aurifil Thread Club!
Buy this thread box, which includes one spool of white thread, for $14.99.
Also in the box are coupons - one for each month through April 2020 -
for
25% off 1 large spool of Aurifil thread.
This is a "can't lose" club - even if you don't buy another spool of thread - you still
have this really cool box and a large spool of thread!
---
Rich fall tones in pre-cuts from Robert Kaufman.
---


15% OFF All
Pre-Cuts - Fat Quarter Bundles, Layer Cakes, Jelly Rolls and Charms!
In-Stock only please. June 1-30th.

---
UPCOMING CLASSES
Saturday, June 8 - 10:00 am - Prairie Points Quilt Club

Saturday, June 8 - 12:30 pm - Kimberbell Embroidery Club *Note time and day change*




Sunday, June 9 - 10:00 am - Sunday Sew-In with Jan

Wednesday, June 12 - 1:00 pm - Beginning Quilting with Claudie

Saturday, June 15 - 11:00 am - Cedar Mills Block of the Month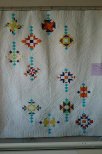 Saturday, June 15 - 1:00 pm - Sew Hometown BOM

Wednesday, June 19 - 1:00 pm - Beginning Quilting with Claudie

Saturday, June 22 - 9:00 am - Quilts of Valor Workshop

Sunday, June 23- 10:00 am - Sunday Sew-In with Jan

Monday, June 24 - 2:30 pm - New Owner's Class #1 with Claudie

Tuesday, June 25 - 2:30 pm - New Owner's Class #2 with Claudie

Wednesday, June 26 - 1:00 pm - Beginning Quilting with Claudie

Wednesday, June 26 - 5:00 pm - New Owner's Class #3 with Claudie

Thursday, June 27 - 5:00 pm - New Owner's Class #4 with Claudie

Saturday, June 29 - 11:00 am - 5th Saturday Demos


* Click on the links to get more info about classes on our website.*
**Don't forget to make our clerk aware that you are purchasing supplies
for class to receive your class discount.**

---