Skip Navigation
Website Accessibility
Make a gift for 5th Sat Demo and Small Business Saturday
---

Nov 29, 2019
Christmas Eve

, Tuesday, Dec., 24 - 9:30 am - 2:00pm
Christmas Day

, Wednesday, Dec. 25 - Closed
New Year's Eve

, Tuesday, Dec. 31 - 9:30 am - 2:00pm
New Year's Day 2020, Wednesday, Jan 1 - Closed
---
5th Saturday Demo Day
Saturday, November 30th,
11:00 am - 2:00 pm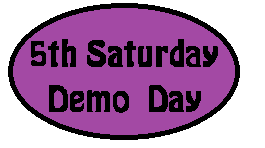 We're doing things a little different for this 5th Saturday
since it's also Small Business Saturday!
Come in between 11:00 and and 2:00 pm and you'll have the
opportunity to make a gift for someone (or for yourself),
using tools and techniques from Tensisters and Stripology.

Fun, treats and prizes will definitely be involved!!!!
---

Countdown to Christmas Week 2,
December 2nd -7th
Each week 'til Christmas, we will feature a bundle of items on special.
Buy 1 item in the bundle get 15% off, buy 2 items in the bundle get 20% off,
buy 3 or more items get 25% off!
Come into the shop to see each week's featured items.
Makes great gifts for you or your quilty friends!

Week 2 Special- Patterns by Krista Moser of A Quilted Life, Jelly Rolls and select rulers.
---
Northcott Stonehenge Challenge





Deadlines are fast approaching for the Northcott Stonehenge
10th Anniversary Solstice Quilt Challenge!
All Panel Quilt Challenges must submit their quilt to participating shops by November 30th.
All Block Party submissions must be in to Northcott by Dec. 31.

(See official rules here).

---

Kimberbell Club News

Kimberbell and Prairie Points are offering a tea towel project with the cute red truck
and the "All Roads Lead Home for Christmas" saying on it for those purchasing
the Kimberbell Tea Towels.

A Bonus Club meeting with a demo of this project will be on December 7th .
The design is provided on a thumb drive for a $5 deposit. You will get a $5 store
gift card when the thumb drive is returned.

Our Bonus Club meeting is free for 2019 club members and those signing up for 2020.
A $5 fee will be charged for non-club members who want to see the demo of the Red Truck project.
---

15% off all Packaged Batting



Valid thru November 30th.
In stock only please!


---


"Memories" by 3 Sisters for Moda.
Jelly Rolls and coordinating yardage.

---
UPCOMING CLASSES


Saturday, November 30 - Small Business Saturday and 5th Saturday Demos

Tuesday, December 3 - 5:00 pm - Mini Diva Frame Wallet with Deb

Saturday, December 7 - 10:00 - Kimberbell Bonus Class with Carol

Sunday, December 8 - 10:00 am - Sunday Sew-In with Jan

Saturday, December 14 - 10:00 am - Prairie Points Quilt Club

Monday, December 16 - 1:00 pm - Gems of the Prairie Art Bee

Saturday, December 21 - 11:00 am - Cedar Mills Block of the Month

Saturday, December 21 - 12:00 pm - Sew Hometown Block of the Month

Tuesday, December 24 - Christmas Eve - Open 9:30 am til 2:00 pm

Wednesday, December 25 - Closed -


Thursday, December 26 - 5:00 pm - Sit N Stitch with Diane, Julia and Kelly

* Click on the links to get more info about classes on our website.*
**Don't forget to make our clerk aware that you are purchasing supplies
for class to receive your class discount.**
---
CLASS POLICIES
- Payment for class is expected at time of enrollment, unless other
arrangements are made with the instructor.
- Store credit will be issued for cancellations during the week before
class up until within 24 hours.
- No credit or refund for cancellations less than 24 hours before the
start of the class.
---
Prairie Points website

Prairie Points Facebook Page

See you soon!
Denise and the Prairie Points Staff