December 31,
2019
---
New Year's Eve

, Tuesday, December 31 - Open 9:30 am - 2:00pm
New Year's Day 2020, Wednesday, January 1 - Closed
---
Come in Tuesday, December 31st
and get 19% off your total purchase.

Come in Thursday, January 2 thru Saturday, January 4
and get 20% off your entire purchase!
(In-stock only, some exclusions apply).
We're also still offering 20% off all Riley Blake
Table Runner kits in stock.

Further reductions on Dept 36 items! (i.e All Dept 36 fabric $5.50/yd -1 yard minimum)
Further reductions on clearance items up to 60% off!

---
$30 for first timers or $20 if returning
Limited seats available, so please reserve yours by letting the store or Carol know you're coming.
Project of your choice: (Suggestions: Tandem Bike tote from 2019 club, Home is where you
Hang your Heart door decor from January 2020 club project, Enchanted projects,
or the Red Truck tea towel project.)
Please try to let Carol know your choice so she can have projects ready for you.

Sew-ins will be held on the second Thursday of each month.

Kimberbell Club for 2020 begins on January 18th at 10:00 am with
"Home is Where you Hang your Heart" door decor project.
At 11:00 am we will recap the bike tote from 2019 for those who missed it.
You can get the design and short demo for

$10

fee for this project.
---


Valid thru January 15th.
Come and see where we've put Red Tags for you!

---


With the new EPIC 2 coming out this month, we have an "in" to a few
private owner sales of gently used EPICs. Please contact the shop and
we will get you connected!

---
Join us for the Kona Color Inspiration Club!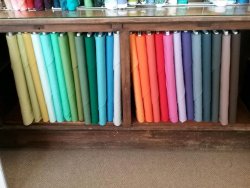 Become a member simply by purchasing a Kona Color card.


The club runs from October 2019 thru Dec 2020.
Each month you will receive:
A free pattern which focuses on the use of solids,
25% off the "Kona color of the month" which will be picked by different
staff members throughout the year* This month's color is "Coal".
15% off Kona solid purchases all the time*
We have 25 new colors for you this week, including
Chili, Marmalade, Lemon Ice, Balsam, Grizzly & Shark,
Call or come into the shop if you have any questions and see what you can do with your
Kona color card!


(*minimum 1/2 yard cut)



---

UPCOMING CLASSES


Tuesday, December 31 - NEW YEAR'S EVE - Open 9:30 am til 2:00 pm

Wednesday, January 1, 2020 - NEW YEAR'S DAY - CLOSED

Saturday, January 4 - 10:00 am - Quilts of Valor Workshop

Thursday, January 9 - 10:00 am - Kimberbell Sew-In with Carol

Saturday, January 11 - 10:00 am - Prairie Points Quilt Club

Sunday, January 12 - 10:00 am - Sunday Sew-in with Jan

Saturday, January 18 - 10:00 am - Kimberbell Club with Carol.

Saturday, January 18 - 11:30 am - Cedar Mills Block of the Month

Saturday, January 18 - 12:30 pm - Sew Hometown Block of the Month

Monday, January 20 - 1:00 pm - Gems of the Prairie Art Bee

Sunday, January 26 - 10:00 am - Sunday Sew-in with Jan

Thursday, January 23 - 5:00 pm - Sit N Stitch with Diane, Julia and Kelly

* Click on the links to get more info about classes on our website.*
**Don't forget to make our clerk aware that you are purchasing supplies
for class to receive your class discount.**
---
CLASS POLICIES
- Payment for class is expected at time of enrollment, unless other
arrangements are made with the instructor.
- Store credit will be issued for cancellations during the week before
class up until within 24 hours.
- No credit or refund for cancellations less than 24 hours before the
start of the class.
---
Prairie Points website

Prairie Points Facebook Page

See you soon!
Denise and the Prairie Points Staff
---
Prairie Points Quilt Club
8851 N. Knoxville
Peoria, Illinois 61615
309-692-4340