Skip Navigation
Website Accessibility
It's not too late to join the new Forest Nights BOM!
---

February 28,
2020
---
Leap Into Classes.
Saturday, February 29th, 11:00 am til 2:00 pm
The 5th Saturday falls on Leap Day this year - so we're going to do something a little different!
Join us for a look at all the exciting classes we will have in store for you in
the first half of 2020! Bring your ideas and "wish list" for classes too.
You'll get a chance to meet with all of our teachers, sign up for classes and
tell us what you'd like to see us teach this year!
In addition, we will be having a Singer Featherweight Machine Give Away!
(Perfect machine for taking to all your classes!)
Beginning February 29 and running through March 31, when you sign up and pay for a class,*
you will be eligible for a chance to win a Singer (new style) Featherweight sewing machine.
If you attend our Leap Into Classes Event on February 29th, you will be eligible to
receive two entries for each class* that you sign up and pay for during the event.
The drawing will be held the first weekend in April.
*BOMs, New Owner, Retreat and clubs (i.e. Kimberbell Club, Quilt Club) do not qualify as classes.
Here's some of what we have in store for you for 2020:
Claudette Cremer: Beginning Quilting & T-shirt Quilts
Beth Durig: Quilting Your Quilt with Your Domestic Machine
Deb Dvorak: Quick Curve Ruler Classes
Kelly Harvey: Color Block Star & Hunter's Star
Kathi Lehman: Software Classes
Georjean Lipovsky: Pineapple Quilts & Using Your Stripology Ruler
Carol Lontai: Kimberbell Embroidery
Ruth Woolcutt: Temperature Quilts
---
There's still room for you!
Forest Nights Block Of the Month
Third Saturday of each month thru December at 12:30 pm




This exciting new row of the month runs for 6 months.
Registration is $10, Pattern is $18, then purchase a Gift Card for $100 to redeem for
a kit, or use your own fabrics and save the gift card for other in house purchases.
Come in to the shop to see the beautiful sample and sign up now!
---
Join us for the Kona Color Inspiration Club!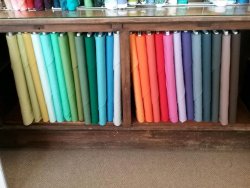 Become a member simply by purchasing a Kona Color card.
The club runs thru Dec 2020. Each month you will receive:

- A free pattern which
focuses on the use of solids,
- 25% off the "Kona color of the month" which will be picked by different
staff members throughout the year.*
- 15% off Kona solid purchases all the time.*

Call or come into the shop if you have any questions and see what you can
do with your Kona color card!
(*minimum 1/2 yard cut)
---

20 % off all wide backings in stock!!



Valid thru February 29.
---


Fun new Kaffe Fassett fabrics -
In yardage, Fat Quarter Bundles and 10" squares.


---