March 4,
2020
---
WIN A SINGER FEATHERWEIGHT SEWING MACHINE !
(Perfect machine for taking to all your classes!)

Beginning February 29 and running through March 31, when you sign up and pay for a class,

*


you will be eligible for a chance to win a Singer (new style) Featherweight sewing machine.
The drawing will be held the first weekend in April.

*Clubs (Kimberbell, Quilt Club, etc), Block of the Month, Retreats and
New Owner and Private Classes do not qualify as classes for this drawing.*

---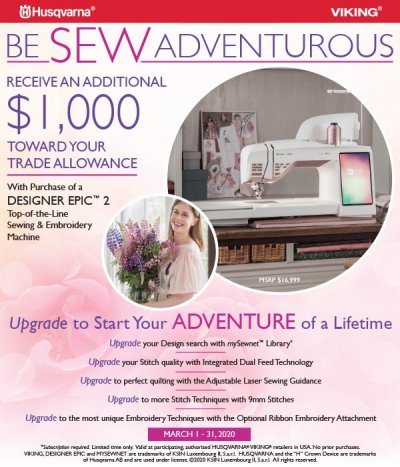 Valid on qualified trade-ins thru March 31st.


---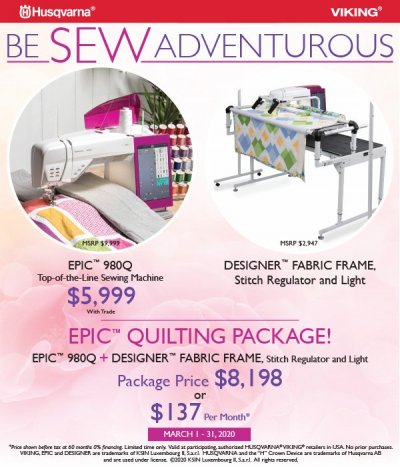 Valid with qualified trade-in thru March 31st.


---
Great prices on fabulous machines!


Valid thru March 31st.

---


Our new hours are -


Monday thru Friday - 10;00 am to 5:00 pm




Saturday - 10:00 am to 3:00 pm




We are closed on Sunday!


Thank you!
---
UPCOMING CLASSES

Sunday, March 8 - 10:00 am - Sunday Sew-in with Jan

Tuesday, March 10 - 5:00 pm - Diva Frame Wallet with Deb




Thursday, March 12 - 10:00 am - Kimberbell Sew-In with Carol

Saturday, March 14 - 10:00 am - 2020 Prairie Points Quilt Club

Saturday, March 14 - 1:00 pm - SKW Urban Abacus with Deb




Sunday, March 15 - 10:00 am - Quilts of Valor Workshop

Monday, March 16 - 1:00 pm - Gems of the Prairie Art Bee

Tuesday, March 17 - 2:00 pm - Beginning Quilting with Claudette (6 sessions, ending April 21)

Saturday, March 21 - 10:00 am - Kimberbell Embroidery Club with Carol




Saturday, March 21 - 11:30 am - Cedar Mills BOM

Saturday, March 21 - 12:30 pm - Forest Nights BOM




Sunday, March 22 - 10:00 am - Sunday Sew-in with Jan

Monday, March 23 - 5:00 pm - Preparing Your Quilt Top to Quilt with Beth

Tuesday, March 24 - 2:00 pm - Beginning Quilting with Claudette

Wednesday, March 25 - 1:00 pm - Machine Quilting with a Walking Foot with Beth

Thursday, March 26 - 5:00 pm - Sit N Stitch with Diane, Julia and Kelly

Saturday, March 28 - 10:00 am - Temperature Quilt with Ruthie

Monday, March 30 - 5:00 pm - Pineapple Pizzazz with Georjean




Tuesday, March 31 - 2:00 pm - Beginning Quilting with Claudette

* Click on the links to get more info about classes on our website.*
**Don't forget to make our clerk aware that you are purchasing supplies
for class to receive your class discount.**

---