May 22,
2020
---
We want to thank all of you for shopping with us during the Stay-at-home order.
This is such a wonderful group of people who practice kindness daily.
It's been so great to see you all! We can't wait til it's "business as usual"!!

The shop is still closed to the public but we are considering the best options
for health & safety as gradual openings occur. In the meantime, we have
expanded our curb-side pickup service to Tuesday, Thursdays and Saturdays
from noon til 2:00 pm.
Appointments are already filling up!

Please see the curb-side process below.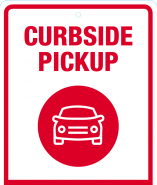 We are now offering limited curb-side service


between noon and 2 pm on Tuesday, Thursday and Saturday!




If you are running low on anything be sure to send an email or leave
a voicemail on the shop phone. Please see the curb-side process below.


Appointments are filling up!

Here's how it will work:

1. Call the shop at 309-692-4340 and leave a voicemail
message or email us at info@prairiepts.com


before 2:00 pm on Monday, Wednesday and Friday.


Sorry, we are not always able to answer the phone because
we might be returning a call, pulling product to fill an
order or running out to a car to deliver an order.

2. Please be sure to include in your message or email
a. Your name
b. Your phone number
c. Items you need and quantity of each
OR
d. That you need your machine serviced.

3. Orders received before 2:00 pm on Mon, Wed and Fri will
be processed to be picked up the next curb-side service day unless
you let us know you prefer a later one. We will try to accommodate
orders received past 2:00 pm and same day orders when we can.

4. We will contact you to confirm the items in your order,
your time for pickup and payment method.


5. For sewing machine service, we will contact you to fill out the
form over the phone and set up a time during the curb-side
service window to drop the machine at the shop.

---
FREE gift bundle worth over $1,800 with the purchase of the
EPIC 2 Embroidery/Sewing Machine. (Includes the Ribbon
Attachment, ribbon collection and much more!)
Plus, take advantage of 72 months 0% interest financing* when you purchase
the DESIGNER EPIC™ 2 with your Synchrony Bank credit card from May 1-31, 2020.
---
Yes, you can still buy a machine while we aren't open to the public!
You'll also get FREE Premier 2 Embroidery Software when you buy these
Embroidery/Sewing machines.
Ask us for details!!! Valid thru May 31st.
---
All classes scheduled during this time have been cancelled, postponed
or rescheduled. We will keep you informed as we know more. You will
receive credit for any classes you have already paid for.

Please stay home if you can and stay safe if you have to go out.

We'd love to see what you're working on while you're at home -
so please post pictures on Facebook and Instagram as linked below.

We look forward to seeing you again soon!
Thank you.
Denise and the Prairie Points Staff
---
Prairie Points Website
Prairie Points email

Prairie Points Facebook page

Instagram


---
Prairie Points
8851 N. Knoxville
Peoria, IL 61615
309-692-4340