June 26,
2020
---
We are excited to join the Kimberbell Love Notes Mystery Quilt!
This Quilt will be available in an Embroidery Version
or a Sewing Version.
To sign up, come by the shop to purchase either version.
We will distribute the Love Notes over five consecutive weeks
from
August 3rd to August 31st. Each Love Note envelope
will have the
instructions for a section of the quilt.
We'll have so much fun putting the pieces together to solve the mystery
!!!
Fabric and Embellishment Kits will also be available for purchase.
---
Club and Class News -
Classes will be returning in July!!!
We are in the process of rescheduling classes and posting new ones, so
check the website calendar for changes! Your instructors will be contacting
you as soon as they have worked out details and can safely hold them.
You will receive credit for any classes you have already paid for.
Join Deb for Christmas in July
SKW Mod Ornament
Saturday, July 11th at 1:00 pm
Making this ornament block is fun and easy with the Sew Kind of Wonderful (SKW) Quick Curve Ruler!
Make curved pieces with no pins, no matching centers - just cut, sew and square up!
We will work on a single block (14.5" x 17.5" unfinished) in the class and materials listed are those
needed to complete only this piece. Once you take this class, you will have the skills you need
to complete a table runner or wall hanging with this beautiful block (and you'll be hooked on
using your QCR!).
Deb is a certified Sew Kind of Wonderful instructor.
Click here for more info!
Rapid Fire Hunter's Star with Kelly
Saturday, July 13 at 1:00 pm
Rapid Fire Ruler makes piecing this small quilt super-rapid-fast!
Bring 2 yards of fabric, 1 light and 1 dark, to master this classic star with ease.
Call to register for class and get your supply list!
---
Aurifil Club News!
"What about those Aurifil Club coupon? ", you ask?
Well, the short answer is yes, of course we will still honor your March,
April and May coupons. You can bring them in now that the store is open,
or bring it to a curb-side pickup appointment- no problem!
We will honor them until the end of June.
But wait, there's more!
As part of our plans for 2020, we ordered more cases!
They are empty this time but if you purchase one you will get coupons for
25% off one Aurifil thread for each month through the end of the year.
That's like getting 2 spools of thread free! Here is the info for the Club -


Aurifil Thread Club - 2020
Purchase an empty Aurifil case and you will receive coupons, one for each month
through the end of 2020, for 25% off one large spool of Aurifil thread.
Even after you have used your coupon for the month you can still save!
Bring your box with you and get 15% off additional purchases of Aurifil thread!
We do ask that you follow a couple rules:
· Only you can redeem the coupon. Sorry, no phoning a friend.
· Coupon must be redeemed during that month.
(Except as we are allowing due to the shop being closed thru May.
The case is only $8 and is currently discounted by 15%!
We would love to hear your color requests so we can add to our inventory!
Sorry, no variegated colors, only solids.
---
As many of you know, we reopened our doors Monday June 1st.

We want to thank everyone who came by to shop to say hello and check out the new
'goodies' we have received in the past few weeks.
We appreciate you all following the guidelines that we have put
in place for safety. We think it has worked very well so far.

Thank you!!!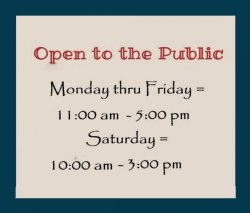 Beginning at 11:00 am Monday - Friday and 10:00 am on Saturday,
the store is now open to the public.

(with a few restrictions)
~The number of customers allowed in the store at one time is limited to 6.
~Please call when you arrive to see how many customers are already in the store.
~Both customers & employees MUST wear a mask and maintain physical distancing.
~Hand sanitizer is available at the front of the store for
customer use when entering and leaving the store.
~Staff continuously cleans high touch areas between customers
We are so grateful for your loyalty and support!
Please be patient as we implement ways to keep each other safe
AND the doors open.
Thank you!!!
For those of you who prefer not to come into
the store quite yet - we continue our Curbside Service.


You can now call us and make arrangements for Curbside Pickup

anytime during our regular hours.
Just leave a
message or send us an email and we will get back to you as soon as possible!
Additionally, we offer one PRIVATE shopping appointment in the store each day!!

C
all and schedule an appointment
for any day, Monday thru Friday at 10:00
(Both customers & employees MUST wear a mask and maintain physical distancing).
Call, send an email or leave a voicemail on the store
phone for appointments, curbside pick-up or any questions.
---
We'd love to see what you're working on while you've been home -




so please post pictures on Facebook and Instagram as linked below.



We look forward to seeing you again soon!
Thank you.
Denise and the Prairie Points Staff
---
Prairie Points Website
Prairie Points email

Prairie Points Facebook page

Instagram


---
Prairie Points
8851 N. Knoxville
Peoria, IL 61615
309-692-4340