Become a member simply by purchasing a Kona Color card. The club runs thru Dec 2020.
Each month you will receive:
- A free pattern which focuses on the use of solids,
- 15% off Kona solid purchases all the time.
- 25% off the "Kona color of the month" which will be picked by different
staff members throughout the year.*
October's Color is "Cocoa"!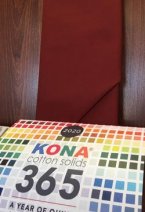 (*minimum 1/2 yard cut)