Skip Navigation
Website Accessibility
Exciting news from SVP coming soon!!!
---

October 16,
2020
---
SVP News Update!





New Machines, updates on existing machines, Software Subscriptions,




notions, accessories and other products coming your way soon!




We are attending the Virtual Sew Fest this week to learn about all the new




"stuff" that we will be receiving in the near future and the great deals




we'll have for you when it comes in! We can't wait to share it all with you!





Did you know that Husqvarna Viking does Live Facebook Events?!?


HV Educators Soni Grint, Karen Charles,

Nancy Bronstein

and Micky Hudson


have many more planned and you can see the archived ones on the


Husqvarna Viking Global Site here.


Visit this FB page and sign up to receive notifications when the




next one is coming (typically 1 week before the Live).

They will include




tips and tricks for using your machine and all the fun feet and accessories




that come with it!



---
Online Quilt Alongs:
For those who are not able to gather in groups, this is a great opportunity to "sew together' virtually.
Most hosts have special incentives and prizes (winners selected randomly and according to individual
hosts' qualifiers). We carry these patterns & would be happy to help you with fabric selection, too.
Check out these QALs (go to their website for more info):
Then Came June (

https://thencamejune.com/pages/nova-star-qal

)

Fall 2020 QAL Nova Star
Aug 24 - Oct 19 - Already started but there is still time to catch up.
---
CENTRAL ILLINOIS SHOP HOP 2020
- I Can Sew Clearly!!! - ALL MONTH!!!!



The 2020 Central Illinois Shop Hop has begun!
There are many ways to participate and it all begins with the
purchase of a magazine instead of a passport.
Still only $5 (cash only please) and quite a value since it includes all the
patterns you would have received by hopping to each shop!

*Note* All participating shops are collecting used eye glasses for the Lion's Club,
and there is a drop box in the store now! Thank you!!!
---
You can still join the Kona Club!


Become a member simply by purchasing a Kona Color card. The club runs thru Dec 2020.
Each month you will receive:
- A free pattern which focuses on the use of solids,
- 15% off Kona solid purchases all the time.
- 25% off the "Kona color of the month" which will be picked by different
staff members throughout the year.*
October's Color is "Cinnamon"!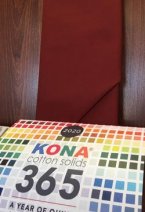 (*minimum 1/2 yard cut)
---
New Serenity Fusion from Art Gallery Fabrics.
---