Skip Navigation
Website Accessibility
Join the mask challange and win a Gift Card!!
June 9, 2021
---
We've got a fun challenge for you!!!

By now we're all tired of the masks, even if they are a necessary accessory.
We've decided to have a little fun with them!
So....for the next few weeks, we'd like to see what you're going
to do with all those masks when we don't have to wear them anymore!!
Buy one of our pre-printed masks for $1 and use it to create a quilted
wallhanging that depicts the demise of your mask!!
Your wallhanging must:
-Include at least one of our pre-printed masks but may contain more than one.
-Be finished (quilted and bound)
-Measure between 12-18"

Once complete, bring it into the shop no later than June 19. We will display all
the entries so that customers can vote for their favorite between June 21 and July 3.


(One vote per customer per shop visit.)


We will count the votes after close of business on July 3.


The top 3 vote getters will

receive Prairie Points Gift Cards!
We can't wait to see what you come up with!!!
---
Now launching the newest in the Husqvarna Viking lineup
of Embroidery/Sewing Machines - the Designer Ruby 90!!!
For a limited time - get UP TO $5000 trade-in on qualifying machines!
Come in and see how you can GET MORE now!!!
As a special incentive to check out the new Designer Ruby 90 -
HV is sponsoring a "Make Your Escape" sweepstakes for a
$2000 AirBnB gift certificate and a roller bag for your new Ruby 90.
10 runner-ups will also win a 1 year Silver Subscription to mySewnet!
Click

HERE

to enter on the Husqvarna Viking Website.
---
Enjoy MORE features that will make your
Sewing/Quilting Experience the best!!!


---

The best features and conveniences in the industry
will help you GET MORE out of your Sewing/ Embroidery machine!!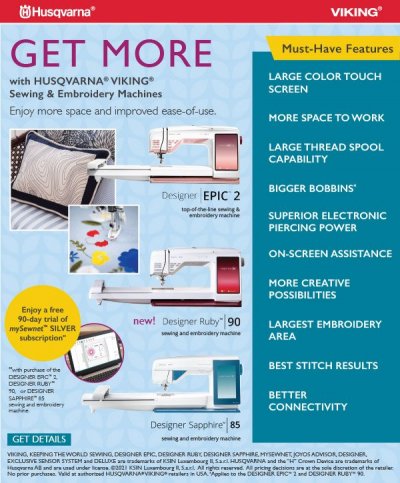 ---
Get MORE out of your Sewing and Quilting experiences
with Hoops and Accessories that have YOU in mind!!


---
Get EVEN MORE when you add Embroidery Software
with mySewnet - now available in a boxed (perpetual) version
or monthly subscription.





We are excited to announce that you can now purchase individual embroidery designs
from the mySewnet™ Library to own forever!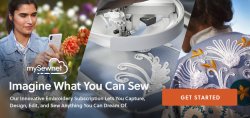 If you have an active mySewnet™ Software subscription, you still have unlimited access
to all of the mySewnet Library designs. This new feature simply gives you the option to
purchase any single design so you can own it forever, even if your software
subscription lapses or is not renewed.
**********************
It's easy to search and find designs in the mySewnet Library. Add them to your
cart and purchase them in a few clicks. They are automatically saved to your cloud.
Want to download them again? No problem: They are always available among your
purchased designs. You can even download in several different formats.
The website also updates with 'add-to cart' and 'purchased' features.
The designs range in price from $0.99 to $7.99.
Click here to visit the Husqvarna Viking blog to learn more.
---
GREAT NEW RESOURCE FOR OUR CUSTOMERS!!!
Covid restrictions have made New Owner's Classes challenging, but
Sewing Mastery is helping with that!
Sewing Mastery is a website created by a dealer who carries various
brands of sewing machines including HUSQVARNA VIKING.
They have given their permission to share this with you.
On the website, you will find many videos for most machines in the line such as
unboxing the machine and learning how to use the features
in each model. For most models, there are 20 or more videos.
Now you can get that new machine out of the box and start sewing with confidence!
(We are still offering New Owner Lessons in the shop. Just call to set it up! )
---
Due to Covid restrictions - we have had to restructure our classes.
Most of them are available in small classes or on Zoom.
Thank you for your patience!

Class and Club News

Saturday, June 12 - 10:00 am -

Prairie Points Quilt Club


in the shop or on Zoom.

Monday, June 14 - 10:00 am - Machine Quilting with a Walking Foot with Beth

Monday, June 14 - 1:00 pm - Machine Quilting - Free Motion with Beth

Tuesday, June 15 - 5:00 pm - Preparing Your Quilt Top to Quilt with Beth

Saturday,June 19 - 10:00 am-

Gravity BOM




in the shop and on Zoom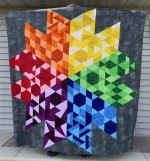 Saturday, June 19 - 11:00 am -

Bee Comforted BOM




in the shop and on Zoom



Saturday, June 19 - 11:00 am -

BOM Sewing Day with Kelly



Monday, June 21 - 1:00 pm - Gems of the Prairie Art Bee

Saturday, June 26 - 10:00 am -

Set Sail with Kelly


in the shop or on Zoom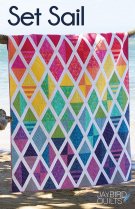 If you are interested in a class and don't see it on the calendar -
please don't hesitate to ask!!! We will do our best to accommodate you,
even if we can't meet in person!
Some of our instructors are also available for private lessons. Just ask!!!
---
Hours
Monday thru Friday - 10:00 am til 5:00 pm,
Saturday - 10:00 am til 3:00 pm



Private Shopping Appointment available - Monday thru Friday - 10:00 am

to 11:00 am




Must be scheduled in advanced.



(If no appointments are scheduled - we can open to the public at 10:00 am -
so please feel free to call ahead and ask!! )



Curbside Pick-up available during regular store hours.




Please call or email to place your order and arrange a pick-up time.





~ Both customers and staff MUST wear a mask and maintain social distancing.~



---
We look forward to seeing you soon!
Thank you!
Denise and the Prairie Points Staff

---
Prairie Points Website
Contact us - Prairie Points email
Prairie Points Face Book page
Prairie Points Instagram
---
Prairie Points Quilt Shop
8851 North Knoxville
(in North Point shopping center)
Peoria, Illinois, 61615
309-692-4340