Skip Navigation
Website Accessibility
Bring us your finished quilts! You could win!!
July 9, 2021
---
WHAT DID YOU GET DONE LAST YEAR??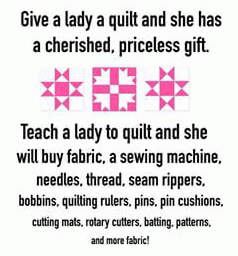 We love to see your finished projects - so bring them in and show them off!!
During the month of July, anyone who brings in a finished (quilted and bound) quilt
and gives us permission to post a picture of it on our Facebook and Instagram
accounts will be entered into a drawing to win a Prairie Points Gift Card.
(One quilt per customer per day, please)
---
For the month of July - buy 3 yards of fabric -
get a coupon for 21% off any cut (

1 yard minimum

) of
Holiday-themed fabric-
to be redeemed August 1 - September 30.
Doesn't have to be a 3 yard cut - just 3 yards total!!!
(Dept 36 fabric not included.)

You asked for it and you got it!
We will keep the fat quarter Fridays going for the summer!!
Every Friday - buy 5 Fat Quarters and get the 6th one FREE!!!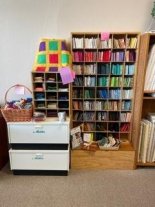 ---

Time to order Shop Hop T-shirts!!!
It'll be here before you know it - so get your
orders in now. These shirts are soooo cute!!!




We have order blanks available in the shop.

-Short-sleeve t-shirts (S - XL) are $18.50
Add $2 for 2XL or $4 for 3XL
- Long-sleeve T-shirts (S-XL) are $21.00.
Add $2 for 2XL or $5.00 for 3XL
(Price is without tax)

Last order date is September 17 - short-sleeved shirts will be delivered
throughout the summer, but long sleeved shirts may take a little longer.


---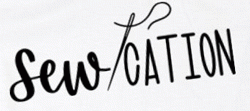 How does a day-long "SEW-CATION" sound?
You and up to 5 friends can reserve our classroom for the day to
enjoy hanging out together and work on those UFOs
As a bonus - our friendly staff will be there to answer your questions -
AND you will receive 20% off any purchase you make that day!!

Gather up your sewing besties and come have fun with us!!
---
Mask Challenge Extended to July 10th

By now we're all tired of the masks, even if they are a necessary accessory.
We've decided to have a little fun with them!
So....for the next few weeks, we'd like to see what you're going
to do with all those masks when we don't have to wear them anymore!!


Buy one of our pre-printed masks for $1 and use it to create a quilted
wallhanging that depicts the demise of your

mask!


Bring it to the shop - by July 10th and we'll display them all from
July 12th thru the end of the month for customers to vote on their favorite.
The one who gets the most votes will win a gift card from us.
Winner will be drawn at close of business on August 2nd.
(See the rest of the rules in the shop.)


---
Join anytime! - Kona Club 2021
Purchase the Kona 2021 Desk Calendar
and you are automatically enrolled in Kona Club and eligible to
receive
a 25% discount on the current color of the
month and a 15% discount on any Kona Cotton Solid any time.
Color of the Month for July is "Lapis".

The calendar features two free patterns and a designer pattern each month,
During the month the designer pattern is featured in the desk calendar,
you can purchase that pattern at a 20% discount.

---
Due to Covid restrictions - we have had to
restructure our classes.
Most of them are available both in person and on Zoom, your choice.
Thank you for your patience!

Class and Club News
Saturday, July 10- 10:00 am -

Prairie Points Quilt Club


in the shop or on Zoom.

Sunday, July 11 - Noon - Ambrosia with Kelly
in the shop or on Zoom
Saturday,July 17 - 10:00 am-

Gravity BOM




in the shop and on Zoom