Skip Navigation
Website Accessibility
Summer Living made beautiful with these deals!


August 10, 2022

---
Join the great Sewing Adventure across Illinois!!





The All Illinois

Shop Hop is going on now thru September!
Visit as many shops as you can and we hope to see you at Prairie Points!!
Be sure to post pictures of your visit on the
AISH Facebook page at the link below - and on ours!!!
The Shop Hop Quilt fabrics
are beautifu and will arrive in the shop very soon!
Here's a link to the AISH for more info.
Pick up the magazines for AISH in the shop for
only $9.95 and start planning your route!!
---
Summer living at it's best - with decor made perfect with decorative stitches!

Valid thru August 31st.


---
Free Embroidery/Quilting Bundle with the purchase of the Designer Topaz 50!


Valid thru August 31st.
---

Special pricing makes this machine perfect to take anywhere!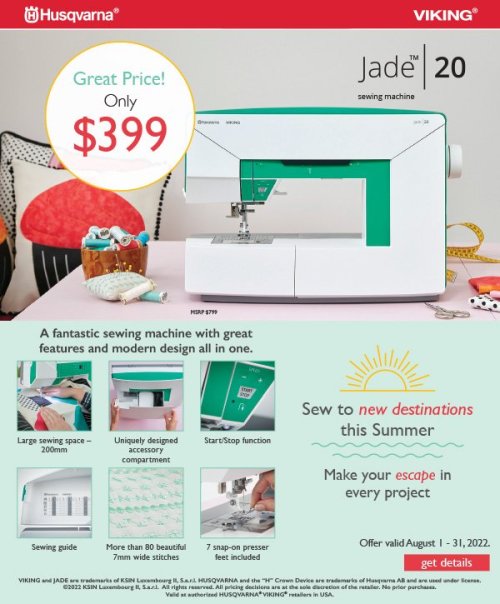 Valid thru August 31st.


---

Don't forget our ONLINE SHOP!!
---

Class and Club News


Saturday, August 13 - 10:00 am - Prairie Points Quilt Club

Saturday, August 20 - 10:00 am - Cup of Cheer Work Session with Barb




Thursday, August 25 - 12:00 pm - Cartonnage Notebook with Carol




Saturday, September 3 - 10:00 am - Mini Jaybird Series "Off the Rail"
with Kelly * Note date change*



If you are interested in a class and don't see it on the calendar -
please don't hesitate to ask!!! We will do our best to accommodate you,
even if we can't meet in person!